Cigna Negotiates Anthem Deal With More Risk in Hope of Reward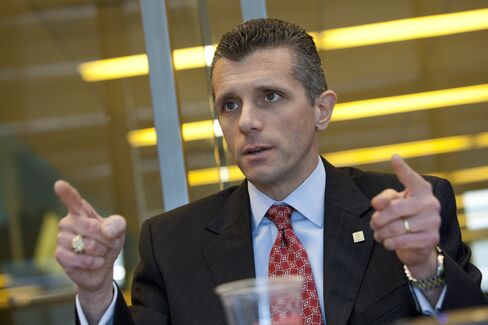 Cigna Corp. negotiated a deal to be acquired by rival health insurer Anthem Inc. that puts more risk on the shoulders of its shareholders, betting that its chief executive officer will make the gamble pay off over time.
In the deal announced Friday, Cigna investors are getting less cash than the acquirer had previously proposed, receiving more Anthem stock instead. Still, Cigna ensured that investors would have someone looking out for them by negotiating to make its CEO, David Cordani, the president and chief operating officer of the combined firm.
The resulting deal produced a less-than-enthusiastic response from shareholders Friday, when Cigna fell 5.3 percent to $146.13 at 2:02 p.m. in New York. Anthem also declined, losing 2.1 percent to $152.
"They obviously gave some on the governance side, but increased the percentage of stock in the transaction, which is less attractive for the Cigna shareholders," Steve Halper, an analyst at FBR, said by phone. "If you're a Cigna shareholder, you're probably not as well off on the margin."
Of course, if Anthem shares go back up before the deal closes in the second half of next year, Cigna investors will share in the benefits.
After almost a year of negotiations, Cigna agreed to a deal that gives investors $103.40 in cash and about half a share of Anthem stock for each of their Cigna shares. The companies said that values Cigna at $188 a share, based on Anthem's closing share price on May 28.
In a deal Cigna publicly rejected on June 21, investors would have gotten $184 a share, with $126.22 in cash and the rest in stock.
In that proposal, Anthem Chief Executive Officer Joe Swedish would have been chairman, president and CEO of the combined company. In the final deal, he keeps only two of those titles.
Swedish, 64, will leave the CEO post about two years after the deal is completed, opening a potential path for Cordani to run the combined firm. Anthem had offered similar terms for Cordani in earlier proposals before backing away from them in its June 20 offer, according to filings last month.
Long Run
Cigna said its shareholders will benefit in the long run from owning a bigger piece of the combined firm. Anthem said Friday that the deal will boost earnings by about 10 percent in the first year and by about 20 percent the following year, as the company achieves about $2 billion in cost cuts.
"The equity that Cigna shareholders took was actually a higher percentage, underscoring the commitment to long-term value creation," Cordani said in an interview. "This is a long-term value creation, and sometimes I think anybody can overreact to a short-term movement."
Cigna's governance demands were appropriate because its executives sought to ensure shareholders would have an advocate at the top of the combined company, said Steven Haas, a partner at Hunton & Williams LLP who advises on deals and other corporate governance issues.
Cigna is now trading about 22 percent below the $188 a share the company says its deal is worth. Rival insurer Humana Inc. is trading about 19 percent below Aetna Inc.'s $225 cash-and-stock bid. The companies are trading so far below the offer prices in part because the deals will probably take at least a year to complete and are subject to antitrust reviews.
Before it's here, it's on the Bloomberg Terminal.
LEARN MORE