Burundi President Wins Third Term in Vote Opposition Spurned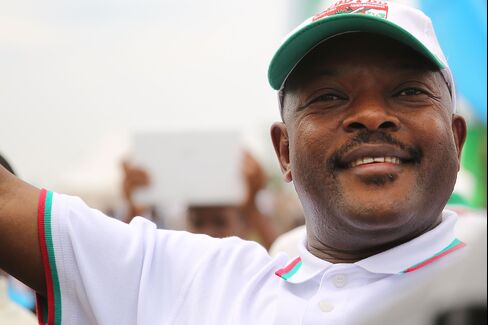 Burundian President Pierre Nkurunziza won re-election in a vote that provoked violence against his decision to seek a third term and led to an opposition boycott.
Nkurunziza received 69.4 percent support in the July 21 polls that drew a turnout of 73.4 percent of eligible voters, Pierre Claver Ndayicariye, head of the national election commission, told reporters Friday in the capital, Bujumbura.
Opponents say Nkurunziza's extension of his tenure violates a two-term limit set out in deals that in 2005 brought an end to a 12-year civil war in which 300,000 people died. Supporters say the 51-year-old's first term shouldn't count as he was chosen by parliament, not by popular vote.
The election "may be the beginning of the end for democracy and peace in Burundi," said Thierry Vircoulon, project director for central Africa with the International Crisis Group, in an e-mailed response to questions before the result was announced. "Burundi is already in a pre-conflict situation and the re-election will send the signal to the opponents that there is nothing left to negotiate."
Regional efforts to mediate between the government and opposition groups and put an end to the political crisis broke down before the elections.
The unrest has raised fears of spillover in a region that includes Rwanda, which has a similar ethnic mix and is still recovering from a genocide in 1994, and copper-producing Democratic Republic of Congo. At least 170,000 people have fled to neighboring countries in the past three months, while more than 77 people have been killed in clashes with security forces since April, when Nkurunziza announced his plan to stand again.
Candidate Withdrawals
Civil wars in the early 1990s in Burundi and Rwanda helped lay the ground for conflict in neighboring Congo, the deadliest war in the continent's modern history.
Agathan Rwasa, an opposition leader who joined at least three of Nkurunziza's other opponents in withdrawing his candidacy to protest a lack of freedom to campaign, came second with 19 percent of the vote, Ndayicariye said. Even after pulling out of the race, their names appeared on the ballot.
The United Nations had warned the presidential vote was likely to cause "major instability and confrontations." Earlier this month, government forces were attacked in the north of the country in raids the military says were carried out by suspected rebels.
The U.S. State Department on July 21 said that the presidential elections weren't credible and may further discredit the government. The authorities in Burundi have harassed opposition and civil society members, closed down media outlets and intimidated voters, the department said in a statement.
The East African nation's Constitutional Court is set to confirm the final election result in nine days.
Before it's here, it's on the Bloomberg Terminal.
LEARN MORE