BofA CFO Change Rekindles Investor Concern Over Management
Bank of America Corp. investors expressed consternation Thursday over the surprise departure of a well-respected chief financial officer who saw the lender through years of legal battles and cost cuts.
For many, Bruce Thompson was the main guide to the company, dominating public conference calls to discuss quarterly results and representing the bank at investor gatherings about as often as Chief Executive Officer Brian T. Moynihan. Thompson's exit in a broad management shakeup is "disappointing," Morgan Stanley analyst Betsy Graseck wrote in a note to clients after the bank's announcement.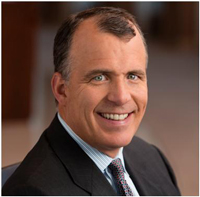 The stock, which had climbed 37 percent since Thompson was named CFO in 2011, slid 1.5 percent Thursday in New York. The shares declined 0.8 percent to $18.03 at 1:34 p.m.
The lack of public explanation for his departure fueled concern that power struggles that once shaped a previous generation of senior management are again rearing their head, said investors including Jonathan Finger, whose firm owns 900,000 shares in the company. The bank said it was Thompson's decision. While the lender stumbled during annual Federal Reserve stress tests, shareholders more recently saw reason for hope in improving cost controls and dividends.
"He deserves some of the credit for executing the strategy on the financial side of the business," said Finger. "It's disconcerting that there are still these types of politics in the upper echelons of the company, and as an outside investor it's hard to read the tea leaves."
Lewis Turmoil
Larry DiRita, a company spokesman, declined to comment. Adding to the turnover, Gary Lynch, the general counsel who was named vice chairman this week amid the other changes, will step down after a replacement is found, a person with knowledge of the plans said Friday. Lynch turns 65 on Saturday.
Moynihan praised Thompson in a statement announcing that Paul Donofrio, the finance chief for consumer and wealth management, will take over the job Aug. 1. Moynihan also promoted Andrea Smith, the head of human resources, to a new post as chief administrative officer, where she'll eventually handle the firm's stress tests and living will, outlining how the firm can be broken up in a crisis.
Management upheaval was a hallmark of the era before Moynihan. His predecessor, Ken Lewis, had five heads of investment banking and four CFOs during his tenure, and when he abruptly announced his retirement in 2009 after being stripped of his chairman title, insiders and external candidates jockeyed for the assignment. Moynihan emerged in 2010 after having held four different positions in the span of a year.
Porat's Pay
While Thompson is Moynihan's third finance chief, he had lasted the longest. His relationship with Moynihan deteriorated recently over disagreements about where to make tactical investments to boost revenue, a person familiar with the situation said late Wednesday after the bank's surprise announcement. Thompson is looking for opportunities outside the company, two people said.
His resume is increasingly valuable in another industry -- technology. Ruth Porat stepped down as Morgan Stanley's CFO in April to take same role at Google Inc., which granted her a $70 million package, some of which vests over several years. The Internet giant wanted help with fiscal discipline.
Within Bank of America, Thompson's opportunities for advancement may have been limited. Moynihan has been consolidating his power in the past year, adding the chairman title last October, even after a previous shareholder push to make the role separate. While Thompson was viewed as a candidate to eventually become CEO, it didn't help his chances when the Fed told the bank during March stress tests to resubmit models and improve internal controls. The firm also made a $4 billion miscalculation during last year's tests.
"That was pretty embarrassing," said Greg Donaldson, chairman of Evansville, Indiana-based Donaldson Capital Management LLC, which oversees more than $1 billion. Still, he said, Bank of America was improving on Thompson's watch.
Before it's here, it's on the Bloomberg Terminal.
LEARN MORE