Alpha Natural Said Negotiating to Sell Mines to Revelation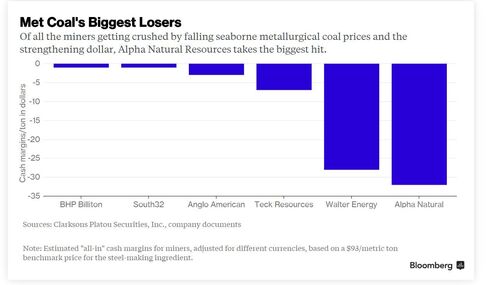 Alpha Natural Resources Inc. is closing in on a deal to sell a half dozen of its Appalachian mines as the U.S. coal producer negotiates a potential bankruptcy filing amid the industry's worst downturn in decades, according to a person with knowledge of the matter.
Revelation Energy LLC, run by Jeff Hoops, is negotiating a purchase of Alpha Natural's mines in southwest Virginia and eastern Kentucky, said the person, who asked not to be named because the discussions are private. The cash value of the deal would be low, but Revelation would also assume liabilities associated with clean-up costs, the person said.
Alpha is exploring ways to remain financially viable amid a prolonged coal-price slump that has already pushed rivals Walter Energy Inc. and Patriot Coal Corp. into bankruptcy proceedings this year. The Bristol, Virginia-based company has been in talks with creditors to restructure its $4 billion of debt, four people with knowledge of the talks said. With $109 million owed to junior-ranking bondholders on Aug. 1, the miner is discussing with senior lenders a loan that would finance operations through a bankruptcy-court proceeding, two of the people said.
Lenders approached Alpha to negotiate a bankruptcy plan after Wyoming, where the company has two large mines, said in May that it no longer had the financial strength to qualify for a program that mitigates costs related to environmental clean-ups. The so-called self-bonding program exempts miners with strong balance sheets from having to set aside cash or other instruments to cover such liabilities.
Surety Bonds
Wyoming officials told Alpha in May that it had 90 days to come up with surety bonds or other instruments to cover $411 million of land reclamation liabilities.
Hoops declined to comment. Steve Hawkins, a spokesman for Alpha, did not respond to phone and e-mail messages seeking comment about the sales.
On July 8, Alpha notified about 292 employees at six mines and a processing plant in southwest Virginia and eastern Kentucky that they may face dismissal because the company was considering selling the sites.
Hoops created Revelation Energy in 2008. The company is based in Milton, West Virginia, and has mines in that state, Kentucky and Virginia, according to the Department of Labor's Mine Safety and Health Administration. Revelation paid $2 million in cash and assumed liabilities to acquire the Bell and Bledsoe thermal coal complex and other assets from bankrupt James River Coal Co.
Advisers Hired
Alpha's first-lien lenders hired Davis Polk & Wardwell LLP and Ducera Partners to advise them in talks with the company, while second-lien bondholders have sought Kirkland & Ellis LLP's counsel, the people said. The Wall Street Journal previously reported those hirings. The second-liens are also being advised by Houlihan Lokey Inc., said the people.
Rothschild Inc. is Alpha's financial adviser, people with knowledge of the matter told Bloomberg in June. Law firm Jones Day is also advising the company, the people said.
Spokesmen for Rothschild, Ducera and Houlihan declined to comment. A spokeswoman for Kirkland didn't immediately provide a comment. Representatives for Jones Day and Davis Polk didn't immediately return telephone and e-mail messages left for comment.
Before it's here, it's on the Bloomberg Terminal.
LEARN MORE