The Fed's Independence Is Under Attack Despite an Economic Rebound
Yellen squares off against Congress over who controls the central bank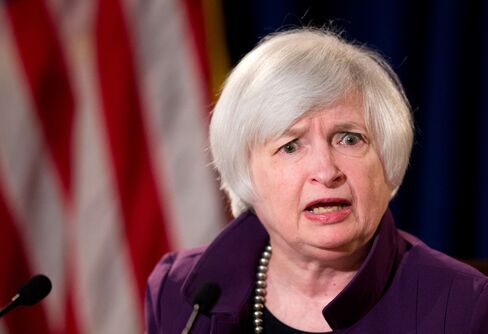 Federal Reserve Chair Janet Yellen isn't feeling a lot of love. She's under attack from both conservative Republicans and liberal Democrats. She's fending off a House of Representatives subpoena regarding a leak of economic data. And Americans in a Gallup Poll last November ranked the Fed second-to-last among 13 federal agencies for performance, just ahead of the Department of Veterans Affairs. Most recently, House Financial Services Chairman Jeb Hensarling told Yellen during her semiannual testimony on monetary policy on July 15 that the Fed's guidance has been "somewhat amorphous, opaque, and improvisational."
What's surprising is that animosity toward the Fed is so strong now, considering that the unemployment rate is down to 5.3 percent, consumer prices are up just 0.1 percent over the past year, and the Fed is winding down the stimulus it began during the financial crisis. Much of the recent criticism is focused on its role as a bank regulator, not as a steward of the economy. Some is partisan. Either way, the dissatisfaction feeds into a general mistrust that could gradually undermine the Fed's independence in setting monetary policy—i.e., raising and lowering interest rates to modulate growth. "The rancor on this is a huge issue," says Columbia University economist Frederic Mishkin, a former member of the Fed's Board of Governors.
It's been understood since the 1970s that independent central banks produce more stable growth, partly because they don't overstimulate the economy to please politicians. Members of Congress taking aim at the Fed say they intend to preserve its independence; they just want it to stick to a plan and explain itself. The Fed "continues to communicate monetary policy by picking words out of a thesaurus," says J.W. Verret, a George Mason University School of Law professor who helped craft a Fed transparency bill introduced this year by Republican Representatives Scott Garrett of New Jersey and Bill Huizenga of Michigan.
Yellen and her allies in academia argue that obliging the Fed to obey a monetary policy rule—even one it set for itself—would reduce the bank's flexibility and increase the risk of mistakes. Republicans often cite a rule created by Stanford University and Hoover Institution economist John Taylor that prescribes rates according to the level of inflation and whether the economy is operating above or below its capacity. While the Taylor rule is a useful tool for deliberations, "it would be insane" to make it binding, says Mark Gertler, a New York University economist. Advocates of a Taylor-like rule say Fed policymakers could deviate from it as long as they explained their reasoning to Congress. That doesn't reassure Gertler, who says the Fed could come under intense pressure to stick to the rule even if the bank concluded it was no longer appropriate. "Congress is a thoroughly political institution, and you want to keep monetary policy as far away as possible from that institution," he says.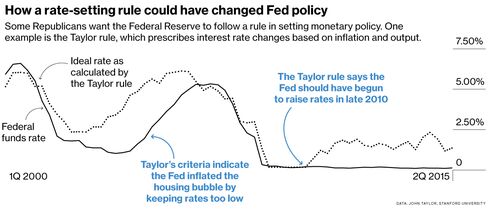 The Fed is still trying to live down the last decade's regulatory troubles, when it allowed a bubble in subprime mortgages to form and then, when the bubble popped, rescued financial institutions in a way that struck some critics on the right and the left as arbitrary. Democratic Senator Elizabeth Warren of Massachusetts is a stinging critic of the Fed as a regulator—even though she wants to preserve its monetary-policy independence.
Yellen lacks the political skill of former Fed Chairman Alan Greenspan, who regularly lunched with his critics, says Mark Calabria, a former senior staffer on the Senate Banking Committee who directs financial regulation studies at the Cato Institute. Lately the Fed has hurt its cause by fumbling the investigation into a leak of market-moving details from a September 2012 meeting of the Federal Open Market Committee. A staff review ended with no action. Now Yellen says she won't comply with a congressional subpoena for information about the leak because the Fed has been told that any disclosure could jeopardize investigations by the Fed's inspector general and the Department of Justice. That response exasperates Representative Sean Duffy of Wisconsin, the Republican chairman of the oversight and investigations subcommittee of the Financial Services Committee. "Madame Chair," he told Yellen at her July 15 testimony, "it appears you are the one who is jeopardizing, or the Fed is the one who is jeopardizing, this investigation."
Under Majority Leader Mitch McConnell, the Senate is moving toward a vote on a financial regulation bill sponsored by Alabama Republican Richard Shelby, the Banking Committee chairman. It requires the Fed to disclose more about how it sets monetary policy, but doesn't require that it follow a rule. It's still unlikely to pass. But, says Cato's Calabria, "You have to lay the groundwork even if the probability of passage isn't high."
The bottom line: A strengthening economy hasn't protected the Federal Reserve from threats to its independence.
Before it's here, it's on the Bloomberg Terminal.
LEARN MORE