The $7.6 Billion Burden That Led Britain to Slash Green Subsidy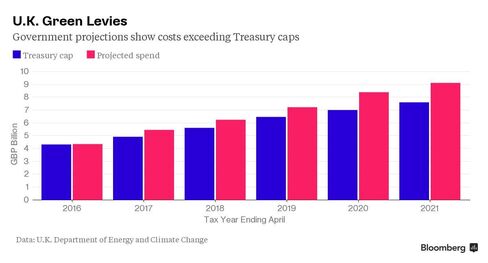 Prime Minister David Cameron once promised his government would be the U.K.'s greenest ever. Now his ministers are cutting subsidies for renewables wherever they can, including limits on solar and biomass this week.
The attached chart shows projections used by the government that indicate support for clean energy will cost 4.9 billion pounds ($7.6 billion) more than the Treasury has allowed for over the next six tax years. Consumers pay the cost of those subsidies through their bills.
While renewable energy developers cry foul and complain that the government changed the terms they can expect without warning, the figures provide ammunition to Energy Secretary Amber Rudd. She must balance the need for lower greenhouse gas pollution with consumer needs for affordable energy.
"We can't have a situation where industry has a blank check, and that check is paid for by people's bills," Rudd said Wednesday on BBC Radio 4's "Today" program.
The chart shows the annual caps set by the Treasury on the amount that can be charged to consumer bills to pay for renewables for each tax year, which ends in April. Costs rise from 4.3 billion pounds in the current year to 7.6 billion pounds in fiscal 2021.
Projections -- questioned by the RenewableUK industry group -- show a small overspend this year. That rises to 1.5 billion pounds in 2021. While that's just inside the 20 percent "headroom" provided by the Treasury to allow for uncertainties in forecasts, Rudd is determined to keep a lid on it, telling lawmakers on Tuesday that "keeping bills low" is a priority.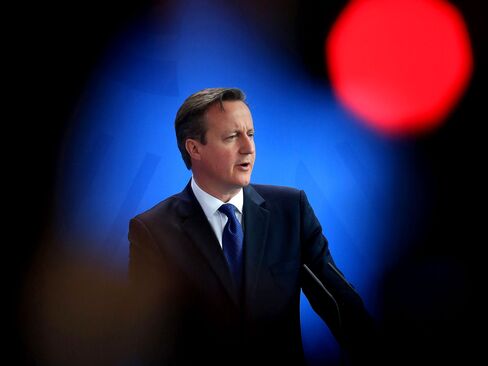 Support Terms
This week's proposals would end the Renewables Obligation program a year early for solar farms up to 5 megawatts. That will subtract 100 million pounds from the 2021 overrun, Rudd's department says. Limiting support for biomass will avoid another 500 million pounds being added to it.
Combined, those measures will subtract 6 pounds from a typical consumer energy bill, which the department predicts will be more than 1,300 pounds in 2020.
The subsidies are costing more because more plants are being built than expected, they're producing more than forecast and wholesale power prices have declined, the department says. Some of the subsidies reflect the difference between a fixed "strike price" for renewables and what power earns in the wholesale markets. When prices fall, the gap between the two rises, and therefore so does the subsidy.
Government Incentive
Rudd did offer one carrot. She's working with the Treasury to extend the Levy Control Framework beyond 2021, which would give the industry more certainty on how much cash will be available.
While that may mean developers already are earning more than expected from the government, it's of little consolation to those who plan to build new onshore wind farms or solar parks.
Unless they're able to work without subsidy or meet the conditions for grace periods set by the energy department, money spent drawing up those new projects will be lost.
"The government is not creating a secure climate for business investment in the expanding green economy," said Richard Kirkman, technical director of Veolia Environnement SA's U.K. & Ireland unit.
Read this next:
Before it's here, it's on the Bloomberg Terminal.
LEARN MORE