Syngenta Says Profit, Pipeline Show Company Can Stand Alone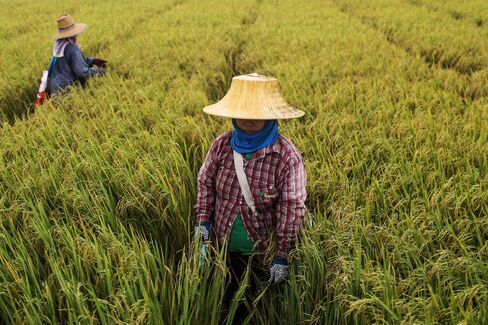 Swiss agrochemical maker Syngenta AG used an upbeat earnings report to bolster its case against a $45 billion takeover bid from U.S. rival Monsanto Co., saying the numbers prove it can stand alone with a product pipeline stretching to the end of the decade.
"A lot of the new products are starting to pay off," Chief Executive Officer Mike Mack said in a phone interview on Thursday, adding that the increase in profit and sales in the first half is the best answer to Monsanto's unsolicited offer. "And the pipeline in 2016 and beyond is going to steer this company to the end of the decade."
St. Louis-based Monsanto, the world's largest seed company, has approached Syngenta, the biggest pesticide maker, about a deal three times since 2011. Its most recent proposal, a cash-and-stock bid, was made in April. Syngenta has argued that Monsanto's proposal is simplistic, may be blocked by regulators and is too low considering a strong pipeline of innovative crop-protection offerings.
Syngenta's earnings before interest, tax, depreciation and amortization reached $2 billion in the first half of the year. Analysts had predicted $1.91 billion. The earnings dropped 5 percent on a reported basis, hurt by currency swings such as the stronger dollar, but gained 21 percent at constant exchange rates.
'Standing Proud'
The stock was down 1.7 percent as of 1:46 p.m. in Swiss trading, valuing the company at 36.9 billion Swiss francs ($38.6 billion). Before today, shares of Syngenta, which also competes with Bayer AG, BASF SE and Dow Chemical Co., gained 26 percent this year.
"The pressure on Syngenta management to accept the offer from Monsanto is now less," said Bernd Pomrehn, an analyst at MainFirst Schweiz AG who rates the stock outperform. "The improvement in margins strengthens their position in negotiations with Monsanto. The trend is positive. Management has delivered."
At constant exchange rates, sales in Europe, the Middle East and Africa rose by 13 percent, while climbing 1 percent in Latin America, declining 7 percent in North America and dropping 1 percent in the Asia Pacific region.
"I think in these six months we can stand proud," Chief Financial Officer John Ramsay said in a telephone interview. "We can see the results that we've been talking about for the last two years start to come through. That determination has started to deliver."
Shareholder Meetings
Monsanto CEO Hugh Grant this month said that there's increasing impatience among Syngenta shareholders about the refusal of the Swiss company to engage in takeover negotiation, after he had traveled to Europe to meet with about 75 investors to promote his unsolicited bid.
"We're very strident on the point that the Monsanto effort keeps tying back to what they call the undisturbed price," Syngenta CEO Mack said today. "The undisturbed price was actually highly disturbed. The industry has been disturbed by a commodity turn-down."
In response to a question on what Syngenta would do if Monsanto decided to take their offer directly to shareholders, Mack said the U.S. company could have done that in 2011, 2012 and in April this year.
"Our market cap has been in the $30-some billion for some time and it's a public company," Mack said. "It's an open stock market. People can come and go."
Investor Meetings
Syngenta will meet with investors over the next week to talk about their first-half earnings. The company today confirmed its full-year forecast for sales excluding currency swings and Ebitda including currency moves to be broadly unchanged.
Syngenta said Thursday that its expanded pipeline of new products has a sales potential of more than $3.6 billion. A new herbicide called Acuron that the Swiss company introduced in April could reach revenue of as much as $500 million, double what the company had budgeted for.
"We said no in 2011, no in 2012 and no in 2015," Mack said. "What part of no do they not understand?"
Before it's here, it's on the Bloomberg Terminal.
LEARN MORE