Putin Foe Navalny Targets Deputy PM Over Luxury London Apartment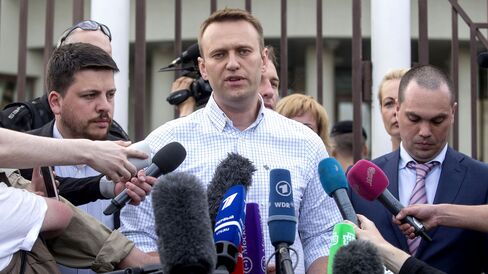 Russian opposition leader Alexey Navalny accused First Deputy Prime Minister Igor Shuvalov of hiding the ownership of a central London apartment measuring almost 500 square meters (5,380 square feet).
Navalny, an anti-corruption campaigner, posted a U.K. land registry document on his website on Thursday showing that ownership of the property was transferred last August to a Russian company controlled by Shuvalov and his wife Olga. The price of the apartment overlooking the Thames, which Navalny says is owned by Shuvalov since 2003 via offshore entities, was listed at 11.44 million pounds ($18 million).
https://www.google.co.uk/maps/place/Whitehall+Ct,+London+SW1A+2EL/@51.50565,-0.12452,17z/data=!4m2!3m1!1s0x487604cf40fd7735:0xbaa454f663737dcb
Navalny, who almost forced a run-off vote in the 2013 Moscow mayoral election won by Kremlin-backed incumbent Sergei Sobyanin, has received suspended sentences from Russian courts in two separate fraud cases that he calls politically-motivated persecution.
Shuvalov declared rental of a house in Austria and a 483-square-meter apartment in London in his 2014 official declaration of assets and income. In an interview with Russia's New Times magazine in January 2014, he said he owned the Austrian house and other real estate indirectly via holding companies.
His spokesman Alexander Machevsky declined to comment on Navalny's allegations, saying he had nothing to add beyond Shuvalov's previous comments. The first deputy prime minister and his wife declared a combined joint income of 52 million rubles ($900,000) in 2014.
Russia is tied with Nigeria in Transparency International's latest corruption perception ranking at 136th out of 175 countries listed.
Read this next:
Before it's here, it's on the Bloomberg Terminal.
LEARN MORE