In Russia's lackluster loan market, banks have hit on a way to trim losses: buying back their own debt.
An offer from VTB Group to retire $2.3 billion, the biggest buyback yet in Russia, would save the nation's second-largest bank as much as $110 million a year, according to Dmitry Poliakov at Sberbank CIB. That's a million more than the bank earned after taxes in 2014 and would ease losses analysts surveyed by Bloomberg predict may be $1 billion this year.
While banks are hacking back borrowing in response to rising bad debt and fewer lending opportunities amid Russia's recession, they're also showing the industry isn't about to run out of cash. The central bank has made $50 billion available to lenders through repurchase agreements since October.
"Given that it's a low-risk operation for the bank, it looks worth the effort," Poliakov, a fixed-income analyst at Russia's biggest bank in Moscow, said in e-mailed comments Thursday. "Buying back Eurobonds is a good way to deploy" an excess of cash, he said.
It's also a defense against depreciation in the ruble. This year's best-performing major currency has weakened 16 percent from its 2015 peak. The exchange rate tumbled 46 percent against the dollar last year as lower crude prices and sanctions against some Russian companies, including VTB, crippled the oil-export led economy.
Tender Result
The lender said it accepted the equivalent of $618.5 million worth of bonds for repurchase, according to an exchange filing.
"The transaction has fully met the target set by our liquidity management strategy," VTB's press office said in an e-mailed comment.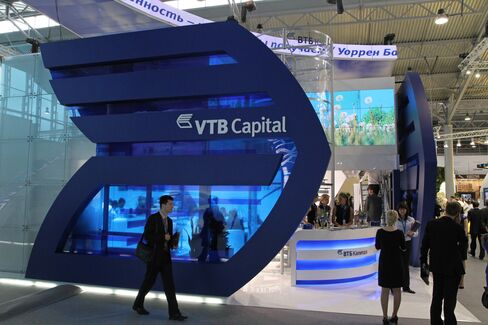 Russian banks have repurchased more than $700 million of Eurobonds in the past 12 months, according to data compiled by Sberbank CIB and Bloomberg.
VTB offered buybacks on seven bonds denominated in the U.S., Swiss and Australian currencies, including part of a $2 billion note due in April 2017. Its price, which peaked at 109.7 cents on the dollar in January, fell below 100 on July 7. It traded at 101.3 cents at 5:02 p.m. Moscow time on Friday.
More buybacks may follow from any other bank that has "a lot of liquidity but doesn't see where to invest it at a good rate," Ivan Kachkovski, a fixed-income analyst at Aton Capital in Moscow, said by e-mail Thursday.
Reluctant Sellers
While Bank of Russia Deputy Governor Mikhail Sukhov said earlier this month he expects lenders to increase their loan books by between 8 and 10 percent, trimming 29 percent growth last year, others in the industry are less optimistic.
"It's hard to believe," Olga Naydenova, a banking analyst at BCS Financial Group in Moscow, said in e-mailed comments Thursday. "So far this year, the growth is negative."
Russia's economy will shrink 3.5 percent this year after 0.6 percent growth in 2014, according the median forecast from economists on Bloomberg.
One hurdle for VTB's plan is that some investors are in no hurry to cash in their bonds.
Read this next:
"The bidding price was not high enough for us," Lutz Roehmeyer, the director of fund management at Berlin-based Landesbank Berlin Investment, said by e-mail Wednesday. The $1.1 billion of assets he helps oversee includes bonds in Australian dollars that VTB offered to buy back at face value. "VTB, through sovereign support from Russia, is safer than the market is thinking," he said.
Before it's here, it's on the Bloomberg Terminal.
LEARN MORE