FT Valuation Is Leaps and Bounds Above Washington Post: Real M&A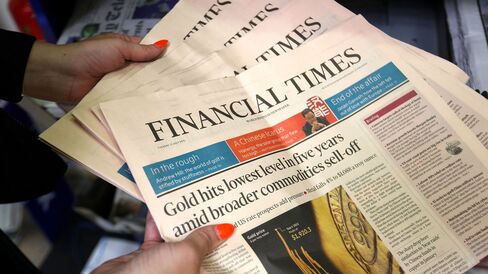 Pearson Plc shareholders seem to be getting a much better deal than the Washington Post's did back in 2013.
Pearson, an education company, is selling its Financial Times newspaper division to Japanese publisher Nikkei Inc. for 844 million pounds ($1.3 billion). It's the latest major newspaper to change hands since the Washington Post was sold to Jeff Bezos, the billionaire founder of Amazon.com Inc., for $250 million two years ago.
At the time, the Washington Post deal put the New York Times Co.'s valuation to shame. But now, the FT Group is trumping both.
While it's difficult to pin down a precise comparison between the FT Group and Washington Post, looking at the deal terms side by side shows the FT coming out on top across the board.
Nikkei's offer values the FT Group at about 2.5 times 2014 revenue. Washington Post sold to Bezos at a 60 percent discount to its revenue. In terms of earnings multiples, Nikkei's offer values the FT at 35 times adjusted operating profit, while Bezos paid less than half that, at 17 times adjusted earnings before interest, taxes, depreciation and amortization.
'Franchise Value'
"There really is no valuation rationale for this price. It simply reflects the franchise value that certain buyers place upon these trophy assets," Paul Sweeney, an analyst for Bloomberg Intelligence, said in a phone interview.
"Some people were thinking that a $1 billion price tag was wildly optimistic, so this was a real surprise that they were able to get a premium to that."
While there are differences between the FT and the Washington Post, as well as the U.K. and U.S. newspaper markets, "$250 million versus $1.3 billion is still a big delta," Sweeney said.
The New York Times, a publicly traded company, is valued at $1.8 billion after subtracting net cash. That's 1.1 times trailing 12-month revenue and 13.6 times Ebitda, according to data compiled by Bloomberg.
The FT Group is also fetching about $1,764 per subscriber, which includes its digital base. The Washington Post hadn't yet adopted a digital-subscription model at the time of its acquisition. Using just its weekday circulation, those readers were valued at $530 apiece.
The New York Times, which has the largest circulation of all seven-day newspapers in the U.S., is valued at about $2,750 per weekday subscriber, based on figures in its latest annual filing. Separately, it has 910,000 digital-only paid subscribers.
For more, read this QuickTake: The Fading Newspaper
Before it's here, it's on the Bloomberg Terminal.
LEARN MORE