Caterpillar Cuts 2015 Sales Forecast Amid Commodity Slump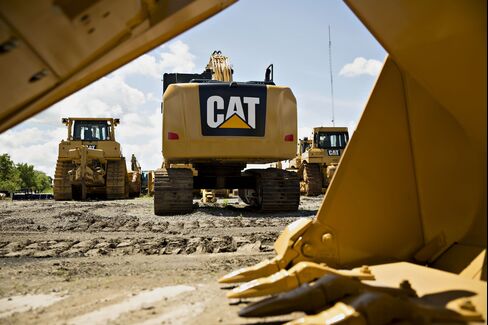 Caterpillar Inc., the largest manufacturer of construction and mining machinery, cut its full-year sales forecast after the U.S. dollar strengthened and said important end-user industries remain weak.
Revenue will be about $49 billion in 2015, down $1 billion from its previous projection, the Peoria, Illinois-based company said Thursday in a statement. The shares fell 3.6 percent to $76.88 in New York, the biggest drop in almost six months.
Caterpillar also reported a 29 percent decline in second-quarter net income, while sales for the period missed analysts' estimates.
"While economic conditions in the United States are modestly positive, the global economy remains relatively stagnant," Chief Executive Officer Doug Oberhelman said in the statement. "Many of the key industries we serve remain weak, and we haven't seen sustained signs of improvement."
Caterpillar is selling fewer of its signature yellow diggers and dump trucks to miners amid a deepening slump in prices for copper, coal and iron ore. Sales of engines and generators to the energy industry also have been hurt by the slide in oil and natural gas prices. There's no end in sight yet, with the Bloomberg Commodity Index falling this week to a 13-year low.
"While the quarter was strong operationally, we continue to believe that CAT earnings are likely to be range bound until commodity prices recover, which could be several years off," Stephen Volkmann, an analyst at Jefferies Group LLC, said in a note Thursday, referring to Caterpillar by its stock ticker.
Commodities Slump
Caterpillar's energy, transportation and mining segments accounted for 56 percent of the company's revenue last year.
Across the whole of the business, there's virtually no sign of improvement. On Wednesday, Caterpillar released figures for retail sales of machinery that showed declines in almost every region and segment. The one exception was a 1 percent gain in second-quarter retail sales from its resource industries business in Europe, the Middle East and Africa.
The commodities slump entered new territory this week as gold tumbled to its lowest since 2010. BHP Billiton Ltd., the world's largest mining company, said Wednesday it will cut production of petroleum, copper and coal in its 2016 fiscal year.
Globally, about 3,000 mining machines are parked and unused right now, compared with a typical level of 1,500, according to Lawrence De Maria, a New York-based analyst at William Blair & Co.
Second-quarter net income fell to $710 million, or $1.16 a share, from $999 million, or $1.57, a year earlier. Profit excluding one-time items was $1.27 a share, beating the $1.26 average of 20 analysts' estimates compiled by Bloomberg. Revenues fell to $12.3 billion from $14.2 billion, compared with the $12.8 billion average estimate.
Before it's here, it's on the Bloomberg Terminal.
LEARN MORE