Buhari's Inaction on Policy, Posts to Keep Nigeria Rates on Hold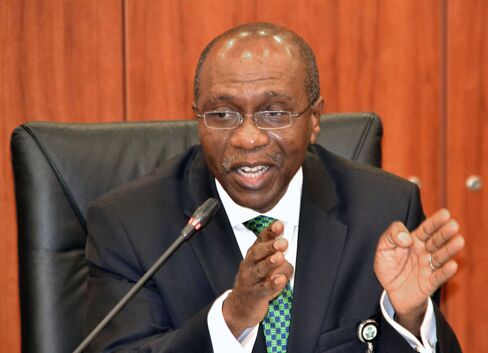 Nigeria's central bank will probably keep rates at a record high even as inflation rises above its target band as it awaits guidance from President Muhammadu Buhari in its first policy meeting since he took office.
Almost two months after Buhari came to power, investors and the central bank are still waiting for him to form a cabinet and oversee economic policy. The Monetary Policy Committee will hold the rate at 13 percent, where it has been since November, according to 21 of 23 economists surveyed by Bloomberg. Governor Godwin Emefiele is due to announce the decision at a press conference scheduled to begin at 2 p.m. on Friday in the capital, Abuja.
The inflation rate of Africa's biggest oil producer has accelerated for seven straight months, reaching 9.2 percent in June to exceed the bank's 6 percent to 9 percent target band. An index of naira bonds declined 1.8 percent percent in dollar terms over the past month. While Nigerian 10-year rates of 14.87 percent are the highest among 31 emerging market nations, foreigners are staying clear until they know Buhari's plans for the exchange rate and budget.
"A level of 9.2 percent is still fairly manageable," Tajudeen Ibrahim, head of equity research at Chapel Hill Denham Securities Ltd., said by phone from Lagos. "Fiscal policy has a major impact on what the Central Bank of Nigeria is going to do on monetary policy."
Reserves Rising
Buhari, 72, inherited an economy struggling to deal with an almost 50 percent slump in the price of Brent crude in the past year that's forced the government to curb spending. He has said he won't appoint a ministerial team until September. In the absence of clear policy direction from the government, the regulator is unlikely to take big steps.
Emefiele, 53, raised the benchmark by 1 percentage point in November and has devalued the naira twice since then as falling oil prices eroded foreign-exchange reserves needed to maintain the currency's stability.
While the level of reserves rebounded to $30.6 billion as of July 21 from this year's low of $29 billion on June 30, they're still 22 percent lower than a year ago.
Trading Restrictions
"We think that the MPC will hold rates at the meeting in July, pointing to a stabilization of the foreign-exchange rate and a recent increase in reserves as signs of returning confidence in the economy," Alan Cameron, an economist at Exotix Partners LLP in London, said in an e-mailed reply to questions.
The central bank has restricted currency trading since December in a bid to stem the fall of the naira, down 7.3 percent against the dollar this year, trading at 197.99 per dollar at 2:32 p.m. on Thursday in Lagos.
While the measures have stabilized the naira at an average of 198.96 per dollar since the start of March on the interbank market, they have left the currency overvalued. Investors including BlackRock Inc. and Aberdeen Asset Management Plc have said they will shun local bonds and stocks until there's a devaluation.
Before it's here, it's on the Bloomberg Terminal.
LEARN MORE