Bank of Russia Finds Indicator It Likes to Set Stage for Easing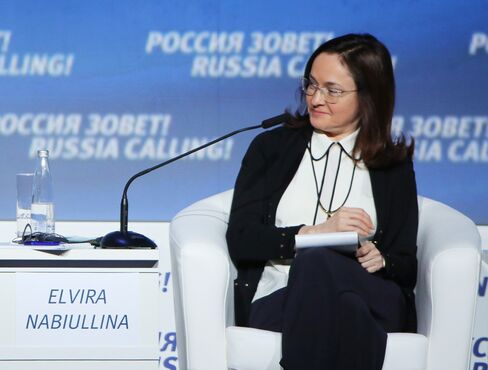 Even as ruble weakness and an uptick in inflation expectations point to Russia's first pause in interest-rate cuts this year, the Bank of Russia has found a gauge that may tip the scale in favor of another reduction.
The central bank began regular publications of trend inflation on Wednesday, saying it fell to 11.5 percent in June for its first decline in 16 months. That was a day after it issued a report that showed inflation expectations growing last month after stabilizing in March through May. Both indicators will be considered for decisions, the central bank said.
Policy makers may now have the ammunition they need to roll back what's left of their December emergency rate increase to 17 percent.
"The window for a cut is shutting: if July inflation is below expectations, the central bank can make an aggressive rate cut on July 31," Alfa Bank analysts Natalia Orlova and Dmitry Dolgin said in a note earlier this month, forecasting the rate will be lowered to 10 percent by year-end.
The Bank of Russia has already cut its benchmark by a cumulative 5.5 percentage points in four steps this year to 11.5 percent before signaling last month that consumer-price risks will hinder further easing. Trend inflation reflects a long-term measure of price growth and may be a "more reliable reference point" for the conduct of monetary policy, according to the Bank of Russia.
Easing Halt
Policy makers will cut the key rate to 11 percent at the July 31 meeting, according to the median forecast of 13 economists surveyed by Bloomberg. Only one sees the rate being held, and one expects a 100 basis-point cut. By the end of the year, the central bank will reduce it to 10 percent, according to the median forecast in a separate survey.
"A rate cut of half a point can be expected at the meeting in July" before easing is halted in the fall, said Oleg Kouzmin, a former central bank adviser who's now an economist at Renaissance Capital in Moscow. Inflation expectations and trend inflation are "both auxiliary indicators."
The Bank of Russia will review its key rate three more times this year after its July 31 decision, starting with a meeting on Sept. 11.
Derivatives traders have scaled back their bets on a decline in borrowing costs. Forward-rate agreements are signaling 34 basis points of decreases in the next three months, near the smallest this year.
Inflation eased for a third month in June, with the rate dropping to 15.3 percent from a year earlier compared with 15.8 percent in May. The central bank, whose medium-term inflation target is 4 percent, forecasts price growth will slow below 7 percent next June.
A staff working paper released in 2008 by the U.S. Federal reserve defined trend inflation as "the expected value of inflation over the next four quarters."
Before it's here, it's on the Bloomberg Terminal.
LEARN MORE