Two Israeli Suspects in U.S. Stocks Fraud Held in Custody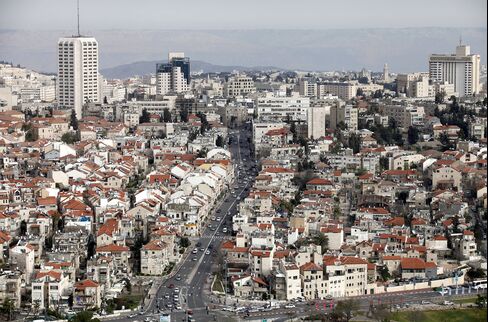 Two Israelis arrested at the request of U.S. authorities investigating a securities fraud scheme will remain in custody pending an extradition request, a Jerusalem Court ruled on Wednesday.
Gery Shalon and Ziv Orenstein were arrested at their homes early Tuesday morning and the Jerusalem court said they can be held until at least Aug. 10. An Israeli prosecutor said that Shalon is suspected of masterminding the scheme, which he carried out together with Orenstein and a third individual, who is currently not in Israel.
Shalon was found in possession of 2 million shekels ($524,000) in cash, the prosecutor said. The two men's lawyers said that their clients denied any connection to the events described in court.
"The respondents are men of the world, business people, for whom traveling from country to country is commonplace, and therefore, there is concern that they may run away," Judge Shmuel Herbst ruled, rejecting the suspects' request to be held under house arrest.
Shalon, 31, and Orenstein, 40, both casually dressed, sat either side of a prison guard on a bench in the tiny courtroom, with family members including Shalon's pregnant wife seated across the aisle.
According to the U.S. request, the suspects participated in a multi-million dollar stock manipulation scheme starting in 2011, referred to as "pump and dump."
Spam Bombardment
Under the scheme, the defendants artificially inflated the price of certain stocks by disseminating millions of promotional e-mails that falsely touted the stock, in order to trick investors into buying them, and then sold their huge holdings, the U.S. request said. At least five stocks were involved, according to the grand jury indictment unsealed on Tuesday in Manhattan federal court.
The U.S Department of Justice wrote to Israel's Justice Ministry on July 2, asking for the arrest of Shalon, Orenstein, and a third suspect Joshua Samuel Aaron, who is not an Israeli citizen. According to the letter, which was distributed to journalists by Israeli authorities, Aaron was scheduled to travel to Israel in mid-July, and the U.S. requested that all three be arrested at the same time.
According to the U.S. request, Shalon, using aliases and fraudulent passports, controlled the bank and brokerage accounts used to receive profits in the scheme. He also worked with Aaron to orchestrate the spam campaigns. Orenstein, also using aliases and false passports, opened the accounts and helped to maintain them.
Israeli police said that more than 10 agents of U.S. investigative agencies have been in the country in recent days working on the case in cooperation with Israel's organized crime unit.
(An earlier version of this story corrected the currency conversion in the third paragraph.)
Read this next:
Before it's here, it's on the Bloomberg Terminal.
LEARN MORE