Tsipras Ally Rallies Lawmakers Before Greek Bailout Vote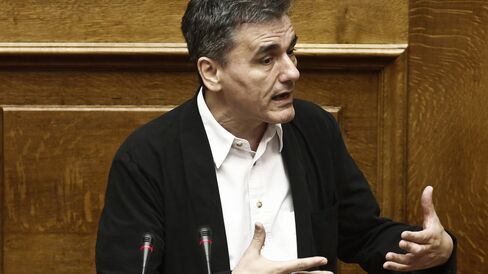 Finance Minister Euclid Tsakalotos tried to rally the government's beleaguered lawmakers as they prepared to vote on measures forced on Greece by its creditors.
The Greek parliament is due to vote in the early hours of Thursday on a second package of reforms that will speed up decisions by the courts and set out the rules for dealing with failing banks. When lawmakers passed the first bundle of measures last week, more than a quarter of the lawmakers from Syriza, the governing party, rebelled.
"Those who try to divide Syriza into the good and the bad guys will get no help from us," Tsakalotos told the parliament in Athens. "Do not bank on divisions in Syriza because you will be soon proven wrong."
Prime Minister Alexis Tsipras is trying to hold together an ad hoc majority long enough to finalize the 86 billion-euro (£93 billion) bailout program that Greece needs to stave off financial collapse and hang on to its membership of the euro region. Abandoned by party hardliners including former finance chief Yanis Varoufakis, Tsipras is reliant on his political opponents to deliver the measures that creditors have demanded.
Defending Austerity
With demonstrators milling around in the square outside parliament and riot police in white helmets disturbed by a solitary petrol bomb, lawmakers spent more than an hour arguing over the procedure Tsipras has employed as he tries to rush through the legislation as the timing for the vote, initially set for midnight, was pushed back.
Deputy Speaker Alexis Mitropoulos pleaded with Tsakalotos to rein in his attacks on Socialist rival Andreas Loverdos to avoid delaying the ballot even further.
"I don't know what's got into Mr. Tsakalotos today," Loverdos, a former health minister, said. "It looks like someone has put the evil eye on him."
Tsakalotos has become the public face of Greece's latest austerity program after his predecessor Varoufakis resigned in protest. The measures represent a total capitulation by Syriza after its six-month battle against creditors demands failed to win concessions and pushed the economy back into recession.
Protecting Taxpayers
Tsakalotos, who was born in the Netherlands and educated at an elite private school in the U.K., addressed his colleagues in foreign-accented Greek, as he argued that the creditors' stance and Greece's financial problems had left Tsipras with no alternative other than to accept the terms.
"We had to face people that didn't want to compromise," he said. "Syriza's negotiating team was always united, we always acted together."
The 977-page bill up for debate from Wednesday night will simplify the process required for courts to reach a decision and write European Union rules for handling failing banks into Greek law.
The new rules will shield taxpayers from the cost of bank failures and stipulate that unsecured depositors -- those with more than 100,000 euros with an individual bank -- will face losses before taxpayers. Shareholders, senior and junior creditors will be in line to take a hit before depositors.
Still, the law won't come into effect until the start of 2016 and taxpayers may be saddled with the cost of recapitalizing the country's financial system for a third time before then. Greek banks are in line for as much as 25 billion euros of new capital under the outline terms of the new bailout program.
Before it's here, it's on the Bloomberg Terminal.
LEARN MORE