Scala Said to Be Asked to Lead Group Overseeing FIFA Reforms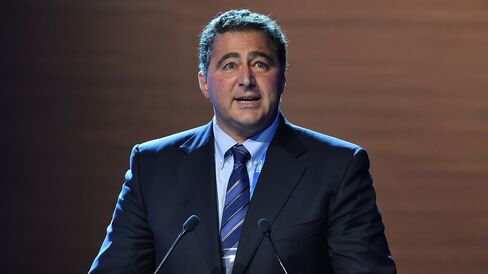 Swiss businessman Domenico Scala will probably lead a FIFA task force that will devise reforms aimed at lifting soccer's troubled governing body out of its worst-ever crisis, two people familiar with the situation said.
Scala, the independent chairman of FIFA's audit and compliance department, is being pushed to take on the role by the heads of most of soccer's six regional bodies, the people said. They asked not to be identified because a final decision hasn't been made yet.
Scala was asked by outgoing President Sepp Blatter to submit ideas on FIFA's reform to the executive committee on Monday. Later that day FIFA said an election to choose Blatter's successor and vote on governance changes would take place on Feb. 26. The 11-member reform panel would be made up of officials from soccer's six regional bodies led by a "neutral chairperson."
FIFA declined to comment on whether Scala had been asked to take on the role. He was appointed chairman of the ad hoc electoral committee on Tuesday.
"This is work in progress and we keep you updated once we have more details," FIFA said by e-mail.
FIFA has been in crisis since May 27 when the U.S. Department of Justice charged senior current and former executives on corruption charges. The scandal forced Blatter to say he'd step down just four days after being re-elected to a fifth term and the organization to commit to reforms its resisted for decades.
Many of the reforms FIFA's 209 members will consider concern its 25 member board. The group has been at the center of corruption allegations for decades amid claims members sold their votes when selecting World Cup hosts, were involved in illegal ticket sales and committed fraud in their regional management roles.
Term Limits
The task force will focus on nine proposals including establishing term limits for top officials, a new centralized integrity check mechanism for office holders and public disclosure of executive pay. Many of the plans were rejected during an earlier reform effort.
The panel will present its recommendations to the board in September. Some of the changes like pay disclosure could be ratified there while others will need to be voted on by FIFA's entire membership.
In his business career Scala, 50, has served as the chief executive officer of Nobel Biocare Holding AG, which was listed on the Swiss stock exchange during his tenure. He took on his part-time role at FIFA in 2012 following a crisis that centered around the 2011 election, when Blatter won after his only opponent quit after being accusing of trying to bribe voters.
Prince Ali bin al Hussein, the Jordanian prince who lost to Blatter in May's election, said the reforms should be delayed until a new president is in place. He met with European soccer head, Michel Platini, the favorite to replace Blatter, on Wednesday.
"It is the role of the new president to put in place the necessary systems to implement the changes that FIFA so desperately needs, not a task force trying to rush this through in less than 60 days," Ali said in a statement.
FIFA's reform plans have also drawn skepticism from critics including Transparency International, which said the measures would "not be sufficient to win back trust in FIFA."
Transparency International, a former FIFA adviser, and the soccer body's top sponsor Coca-Cola Co. had called for a third-party commission to oversee the restructuring. Ali also backed the formation of an independent group to be responsible for the reforms.
"FIFA is a rotten democracy where votes can be bought, bribes can be made and money can be laundered," Transparency International said. "It has promised reform many times before and failed dismally."
Before it's here, it's on the Bloomberg Terminal.
LEARN MORE