Power Generators Face Big Payouts or Big Penalties in Reboot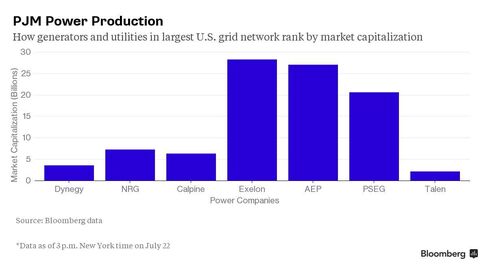 Exelon Corp. and Dynegy Inc. stand to gain from new rules that offer greater rewards to generators in the mid-Atlantic that can reliably provide power when demand is highest.
PJM Interconnection LLC, operator of the largest U.S. power grid, expects to make higher payments in exchange for potential penalties after 22 percent of the region's plants failed to run on the coldest day of 2014. Payments for each megawatt-day of power capacity may be more than double levels set in 2013, according to one estimate.
PJM will hold auctions under the new proposal for power supplies across its 13-state market, which extends from Virginia to Illinois. Exelon's nuclear plants are well positioned because they aren't affected by fuel cutoffs in bad weather. Many of Dynegy's gas-powered plants sit on major pipelines and don't suffer interruptions when a utility needs to supply gas to its heating customers.
"Dynegy would be a significant beneficiary," said Julien Dumoulin-Smith, a New York-based analyst for UBS AG. "Exelon certainly would be." American Electric Power Co., weighing the sale of power plants in PJM, also may gain, he said.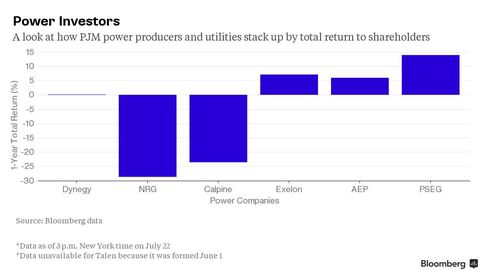 Under the new rules, approved by the Federal Energy Regulatory Commission in June, a 500-megawatt plant could be fined as much as $14.6 million for failure to run during an eight-hour power emergency, Stacy Nemeroff, a Bloomberg Intelligence analyst, wrote in research published July 21. A plant that size can power about 400,000 average homes.
Auction Outlook
The auctions had been set to start next week, but FERC ordered a delay to allow participation by consumers that have agreements to cut power consumption when demand is high, known as demand-response companies. PJM said it may hold its transitional auctions at the end of August.
The grid will take bids in the first transitional auction to lock in guarantees of generating capacity covering the 12 months starting June 2016. The auctions will supplement one held in 2013 for the same time period, and prices paid to generators will more than double because of the new rules, according to Wood Mackenzie Ltd. power executives and other analysts.
"We needed a mechanism to provide incentive for generators to improve performance," Stu Bresler, PJM's senior vice president for market services, told reporters July 14. "For the first time, generators' revenue is dependent on how they perform during system emergencies."
Wood Mackenzie forecasts payments of $155 a megawatt per day, up from about $60 in May 2013 bidding. PJM capped the payments at $165.27. For the average electricity bill, that would add "a few dollars a month," Bresler said.
Nuclear Plants
The top beneficiaries of the higher prices may be nuclear reactors, which hold enough fuel to run for months.
"We would not expect that they would need to make significant investments" to meet the new standards, Mike Kormos, executive vice president of operations for PJM, said July 13.
"The biggest change is in the penalty rates," Joseph Dominguez, executive vice president of governmental and regulatory affairs and public policy at Exelon, said Wednesday in a phone interview. "Historically, we had about 500 hours a year, peak hours that we were judged against. Under the new paradigm, every hour of the year is potentially an emergency hour."
Reliability Upgrades
Exelon may spend as much as $400 million to upgrade reliability, mostly at its non-nuclear plants, he said.
Both Exelon Chief Executive Officer Chris Crane and Dynegy CEO Robert Flexon have said they expect higher prices under the new rules, as competitors estimate the cost of upgrading plants and balance the risk of penalties.
The first auction "will be a good indicator" of capacity prices for later years, Paul Farr, CEO of Talen Energy Corp., a generator in Allentown, Pennsylvania, said in a July 7 interview.
The grid will hold a second transitional auction covering the year starting June 2017, which supplements one held in 2014. PJM plans its full new auction, covering the June 2018 year, for Aug. 10, saying Thursday that it's not affected by the transitional auction delays.
"The real impact won't be known until we have the next blistering heat wave or the next real cold weather," Ralph Izzo, CEO of Public Service Enterprise Group Inc. in New Jersey, a supplier and buyer of PJM power, said in a July 17 Bloomberg interview.
"When people can't perform and they get hit by this two-by-four, that's going to create a whole different discipline in the market," Izzo said.
Before it's here, it's on the Bloomberg Terminal.
LEARN MORE