Mining Stocks Are the Latest Victim of the Commodities Rout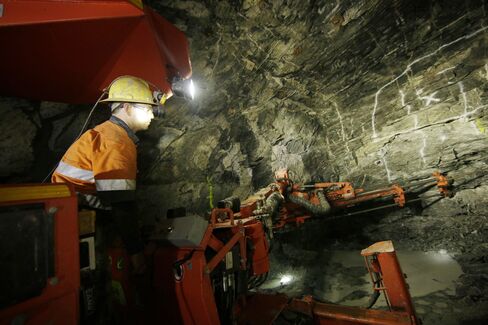 The selloff that started in gold is now spreading to every part of the metals industry.
BHP Billiton Ltd. the world's biggest mining company, led declines in London trading, slumping 5.7 percent to its lowest since March 2009. Freeport-McMoRan Inc. and Teck Resources Ltd. lost more than 3 percent in U.S. trading. Swiss commodities trader and miner Glencore Plc fell to the lowest closing price since its 2011 initial public offering.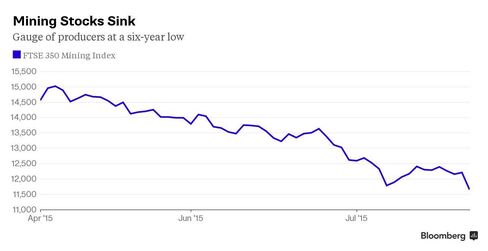 Investors are bailing on commodities as China's economy expands at the slowest pace since 1990 and the Federal Reserve moves closer to raising borrowing costs. More than $140 billion has been erased this year from the value of the Bloomberg World Mining Index of the biggest producers.
"We're probably not too far off a global industrial recession," Colin Hamilton, London-based head of commodities research at Macquarie Group Ltd., said in interview with Bloomberg Television Wednesday. "The only thing that can turn it around are strong capacity cuts."
Copper fell 1.7 percent and gold futures retreated for a 10th day in the longest run of losses since 1996. Plunging metal prices are eroding profits for miners across the globe as a glut of raw materials faces waning demand.
The the 14-member FTSE 350 Mining Index sank 4.6 percent to a six-year low. Anglo American Plc fell 5.6 percent to 813.50 pence, the lowest since 2002. Rio Tinto Group dropped 3.6 percent to 2,502.5 pence. Glencore, led by billionaire Ivan Glasenberg, retreated 5.4 percent to 228 pence.
BHP Cuts
BHP plans to cut production of three of its four most important commodities, it said Wednesday. It plans to trim output of coal, petroleum and copper in fiscal 2016 while iron ore, which is down 27 percent this year, is the only of its so-called four pillars forecast to post an increase.
"The bad news is yet to play out in terms of iron ore oversupply and we think demand conditions are going to get worse for copper as well," Richard Knights, a mining analyst at Liberum Capital Ltd. in London, said by phone.
"It needs to get worse before it gets better," he said. "I don't see demand being the driver of a recovery, so it will have to be supply-led discipline and we are not really seeing that yet."
Societe Generale SA expects surpluses in copper, aluminum and tin this year. Norsk Hydro ASA said on Tuesday that China's exports were compounding a global aluminum glut and damaging the industry.
Gold fell as Goldman Sachs Group Inc. predicted further declines and investors sold more through funds. Prices reached a five-year low of $1,080 an ounce on Monday and holdings in exchange-traded products are the lowest since 2009.
The rout sapped investor confidence in gold miners this week, with the 30-member Philadelphia Stock Exchange Gold and Silver Index reaching the lowest since 2001. A five-day losing streak through Monday wiped $19 billion off the index, which includes Barrick Gold Corp. and Newmont Mining Corp.
Read this next:
Before it's here, it's on the Bloomberg Terminal.
LEARN MORE