Gold Drops in Worst Slide Since '96 as Goldman Sees More Losses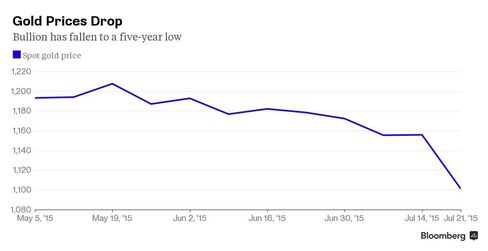 Gold futures retreated for a 10th day in the longest run of losses since 1996 as Goldman Sachs Group Inc. predicted further declines and investors sold more through funds.
The metal dropped 6.2 percent over 10 days of losses. Prices reached a five-year low of $1,080 an ounce on Monday, and holdings in exchange-traded products are the smallest since 2009.
Bullion has fallen out of favor with investors as the Federal Reserve prepares to raise interest rates, boosting the dollar and hurting gold's allure. Prices could fall below $1,000 for the first time since 2009, Jeffrey Currie, Goldman's New York-based head of commodities research, said in an interview. ABN Amro Bank NV's Georgette Boele and Robin Bhar of Societe Generale SA are also bearish.
"It looks like the bear case is gaining more momentum," Phil Streible, a senior market strategist at RJO Futures in Chicago, said in a telephone interview. "People who are bullish on gold are most likely not going to risk more losses" if prices fall below $1,080, he said.
Futures for August delivery lost 1.1 percent to settle at $1,091.50 at 1:47 p.m. on the Comex in New York. Prices are down 7.8 percent this year.
Fed Chair Janet Yellen told lawmakers last week that she expects officials to raise borrowing costs this year. There's a more than 50-50 chance the Fed will increase them in September, according to St. Louis Fed President James Bullard. A gauge of the U.S. currency climbed 19 percent over the past year.
U.S. Rates
Higher rates diminish the appeal of the metal, which typically offers returns only through price gains. China's disclosure last week of government gold holdings that were less than analysts had expected also hurt bullion.
Gold will fall to $1,050 by the end of September and will be the worst-performing precious metals over the coming year, ABN Amro said in a report Wednesday.
Holdings in gold-backed exchange-traded products contracted for a fourth day, declining 4.4 metric tons to 1,565.5 tons as of Tuesday, data compiled by Bloomberg show. They've fallen almost every quarter since reaching a record 2,632.5 tons in December 2012.
Still, lower prices may spur some retail purchases. The U.S. Mint sold 118,500 ounces of American Eagle gold coins so far in July, already the highest for a month since April 2013, when prices tumbled into a bear market.
"Although the physical markets have not responded vigorously to gold's recent price decline, we do not think this necessarily means that physical demand is bound to remain weak," HSBC Holdings Plc analysts said in a report.
Before it's here, it's on the Bloomberg Terminal.
LEARN MORE