Belka Asks Polish Lawmakers to Leave Banks Alone Before Election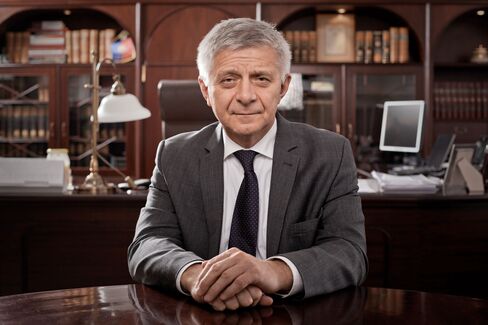 Polish central bank Governor Marek Belka waded into the nation's election campaign, warning lawmakers against destabilizing lenders with additional levies after the industry showed resilience during the global financial crisis.
"Polish banks are very profitable and that makes them a source of envy," Belka told parliament in his annual address in Warsaw on Wednesday. "There's talk of a bank tax and a solution to Swiss franc loans may also impose a cost. But whatever is done here, we can't undermine the stability of banks."
Polish lenders are caught in a political tumult as the ruling party battles to stem a plunge in its support before general elections. Belka is standing up for the financial industry he credits with helping Poland become the European Union's only economy to dodge recession throughout the global financial crisis, a feat he said was possible because banks didn't grow too big and largely financed themselves with deposits.
The opposition Law & Justice party, which is leading opinion polls before the Oct. 25 election, wants to tax bank assets to finance some of its spending pledges. The ruling Civic Platform has proposed that the industry share some of the costs of converting Swiss franc mortgages into zloty as it tries to woo some of its disgruntled middle-class voters.
Unlike in other nearby countries such as Hungary, Swiss-franc mortgages don't represent a "macroeconomic" challenge and Poland shouldn't use public funds or central bank reserves to help borrowers, the governor said.
'Social Problem'
"It's obviously a social problem," Belka told lawmakers. "It's about the interests of one social group and there's the election ahead of us."
Before the speech, Belka's spokesman, Marcin Kaszuba, said the governor would attempt to persuade legislators that Poland needed improved supervision of the financial system. That appeal was missing from his remarks.
This was probably Belka's last annual address to lawmakers before his six-year term ends next June. President Bronislaw Komorowski, who appointed him, unexpectedly lost his re-election bid earlier this year. Law & Justice failed in their attempt to remove Belka for his role in a wire-tapping scandal.
Before it's here, it's on the Bloomberg Terminal.
LEARN MORE