ARM Revenue Misses Estimates as Smartphone Market Cools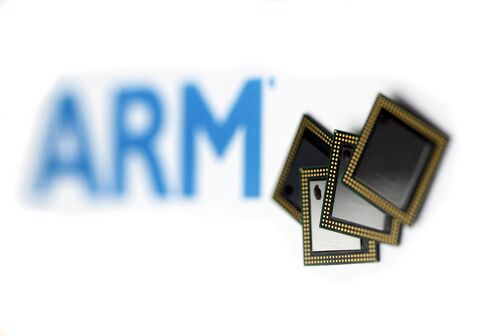 ARM Holdings Plc, the chip designer whose technology powers almost all smartphones, reported sales that missed analysts' estimates after device shipments by customers including Apple Inc. trailed predictions.
Second-quarter revenue rose 22 percent to 228.5 million pounds ($356 million), the Cambridge, England-based company said Wednesday. Analysts had predicted 234.9 million pounds on average, according to data compiled by Bloomberg. Measured in dollars, revenue rose 15 percent.
Apple and Samsung Electronics Co., both of which are ARM customers, reported device sales for the past quarter that fell short of expectations as more people already have smartphones and cheaper Chinese devices gain in popularity. Any indication for a slowdown in demand at Apple, which reported quarterly earnings late Tuesday, could also impact European suppliers including Dialog Semiconductor Plc and AMS AG.
ARM shares fell 3.8 percent to 1,000 pence at 8:08 a.m. in London, giving the company a market value of 14.1 billion pounds. Dialog dropped 5.1 percent and AMS lost 1.1 percent in Zurich. STMicroelectronics NV, Europe's largest chipmaker, declined 3.2 percent in Paris and Infineon Technologies AG fell 3.8 percent in Frankfurt.
Global semiconductor revenue is expected to decelerate this year as device makers rein in new spending on memory, researcher IHS said in an April report.
Royalty Revenue
The second half of the year may show some improvement in revenue, ARM said. Data for the second quarter so far, which is the shipment period for ARM's third-quarter sales, shows a "small sequential increase in industry revenues," the company said. If economic uncertainty doesn't further damage customer spending, full-year revenue will be "in line with current market expectations" of about $1.48 billion, ARM said.
Royalty revenue, the money ARM gets when products using its licenses are sold, rose 30 percent to $175.9 million in the second quarter from a year earlier. Sales from licenses of ARM technology rose 3 percent to $151 million.
The quarterly results are the first financial announcement since Chief Financial Officer Tim Score's departure in June. Score, who retired after more than a decade at ARM, will be replaced by EasyJet Plc CFO Chris Kennedy. ARM said Kennedy will start Sept. 1.
Before it's here, it's on the Bloomberg Terminal.
LEARN MORE