Apple's Stock May Be Falling, But Most Analysts Leave Their Outlook Unchanged
Analysts still believe in Apple earnings.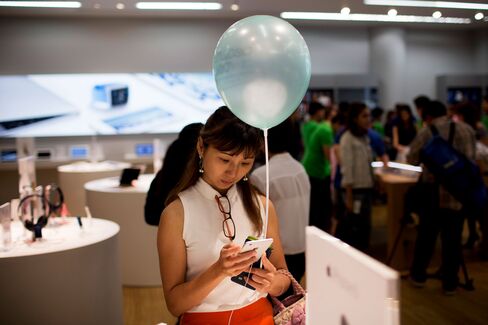 While Apple shares have dropped as much as 5.8 percent on Wednesday, analysts covering the company are holding steady.
Shares dropped after Apple posted fiscal-third quarter results Tuesday that failed to meet analysts' predictions for iPhone sales and growth for the current quarter. Twenty analysts on Wednesday reiterated their price targets for Apple while five lowered them, according to data compiled by Bloomberg.
Timothy Arcuri at Cowen and Company, for instance, downgraded the stock after citing concerns in international markets like China and sales which are not as strong compared with previous iterations of the iPhone.
Apple did not release how many watches it sold for the June quarter, but Goldman Sachs Analyst Bill Shope said that it likely shipped 2.5 million, far below his prior estimate of 3.4 million. Still, many analysts remain optimistic about growth prospects in the company's service sales and products in the next few years.
Here's a roundup of what they're saying:
Goldman Sachs' Bill Shope
Overall, this was a slightly better-than-expected quarter …Given the revenue, iPhone unit and EPS upside seen in the past two quarters, investors were likely looking for sharper upside.
Cowen and Company's Timothy Arcuri
With a tepid iPhone number amid mounting China demand concerns and supply-side field work suggesting new iPhone builds are down cycle/cycle for the first time, we are downgrading AAPL from Outperform to Market Perform…for now, iPhone is still the key.
Wells Fargo's Maynard Um
In a vacuum, Apple's results were good, particularly when accounting for the potential impact higher pricing due to currency may have had on units. However, relative to expectations, results and guidance were disappointing, particularly with respect to iPhone units…
Morgan Stanley's Katy Huberty
[The] iPhone expectation miss helps de-risk 2H15. iPhone revenue growth accelerated, as did growth in Greater China, Japan and Europe in the quarter, suggesting demand remains strong despite volatile currency and equity markets during the period.
Jefferies' Sundeep Bajikar
…results and guidance missed higher buy-side expectations. Our checks…continue to suggest Apple is benefiting from brand power, which might be stealing focus from otherwise technology/value-driven consumer purchasing decisions, particularly in China. We could become more constructive with higher confidence in the sustainability of brand power.
Raymond James' Tavis McCourt
It is hard to call anything bad or ugly this quarter, but coming off some truly exceptional quarters in December and March, June was clearly less ebullient…management went out of their way to talk about GM headwinds in the forthcoming quarters from FX as well…iPad units continued to decline, down 18% y/y, with iPad ASPs down 7% as well. Guidance was essentially in line, which is fine but very different than the previous two quarters.
*Editor's note: This article has been amended to reflect Apple ratings from a greater number of analysts.
Before it's here, it's on the Bloomberg Terminal.
LEARN MORE