AmEx Second-Quarter Profit Drops as Card-Spending Growth Slows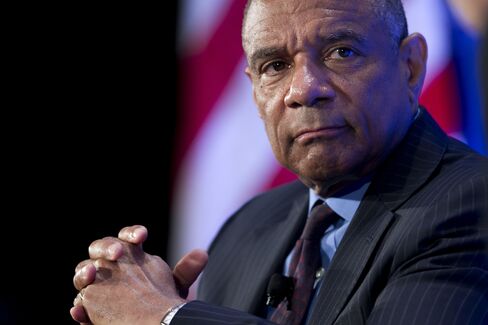 American Express Co., the biggest credit-card issuer by purchases, said second-quarter profit fell 3.7 percent as card-spending growth slowed and revenue declined.
Second-quarter net income slid 3.7 percent to $1.47 billion, or $1.42 a share, from $1.53 billion, or $1.43, a year earlier when the company booked a gain from the sale of its business-travel unit, the New York-based lender said Wednesday in a statement. The average estimate of 28 analysts surveyed by Bloomberg was for profit of $1.32 a share.
Chief Executive Officer Ken Chenault is investing in technology, striking deals with retailers and bolstering card rewards as he seeks to overcome the end of the company's partnership with retailer Costco Wholesale Corp. Earnings per share will probably be unchanged or down modestly this year and quarterly results will be uneven as marketing expenses are expected to rise, AmEx has said.
"They are continuing to watch over expense controls now so they can ramp up on marketing later this year," said Tony Scherrer, director of research at Seattle-based Smead Capital Management, which oversees $1.5 billion including shares of AmEx. "That was a solid data point."
Total expenses fell 4.2 percent to $5.59 billion from a year earlier as marketing costs dropped. Revenue slipped 4 percent to $8.28 billion, missing the $8.43 billion estimate of analysts, as the commercial-services unit and international business saw declines. Total spending on AmEx's network rose 2 percent, or 6 percent adjusted for currency fluctuations, to $262 billion. That the slowest quarterly growth in at least a year.
Shares Fall
Discount revenue, or what AmEx generates from the fees it charges merchants, rose less than 1 percent to $4.95 billion from a year earlier.
American Express dropped 1.3 percent to $78 at 4:39 p.m. in extended trading in New York. The shares declined 15 percent this year through 4 p.m., the fourth-worst performance in the 88-company Standard & Poor's 500 Financials Index.
While consumer spending in the U.S. is accelerating, a strengthening dollar is crimping profits abroad for payments networks. Lower U.S. gas prices should result in reduced spending at the pump, which could damp earnings for networks by as much as 3 percentage points, said Sanjay Sakhrani, an analyst at Keefe Bruyette & Woods Inc.
Last year, AmEx reported a $626 million second-quarter gain from the sale of a 50 percent stake in its business-travel division to create a joint venture with an investor group. A restructuring charge of $133 million, as well as costs of $79 million tied to the joint venture, boosted expenses a year ago.
Costco Deal
AmEx said in February it will terminate its agreement with Costco in the U.S. next year, a relationship that accounted for 20 percent of AmEx's worldwide loans and 8 percent of customer spending. Also that month, a federal judge ruled that AmEx's policies prohibiting merchants from steering customers to cheaper cards violated antitrust laws.
In May, President Ed Gilligan died unexpectedly at age 56, prompting Chenault to shuffle some top deputies. Steve Squeri was named vice chairman, overseeing small business initiatives and the firm's enterprise-growth unit as well as corporate payments and global services. Doug Buckminster, president of the international card business, consumer product head Josh Silverman, and Anre Williams, president of global merchant services, also now report to Chenault.
Before it's here, it's on the Bloomberg Terminal.
LEARN MORE