Vodafone Removes European Management Layer in Reshuffle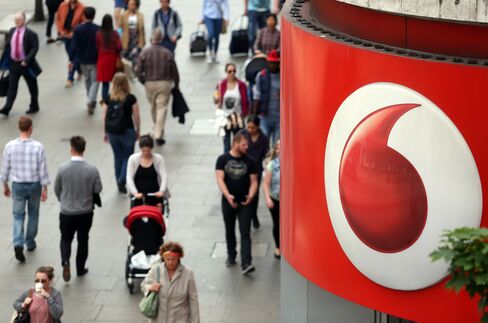 Vodafone Group Plc is abolishing the position overseeing its European operations in a bid to simplify its biggest business as the carrier discusses asset swaps with cable tycoon John Malone's Liberty Global Plc.
The carrier's European head Philipp Humm will step down on Oct. 1 and won't be replaced, Vodafone said Tuesday. The regional human resources, finance, commercial and technology director roles are also being cut, according to an internal company memo. Hatem Dowidar, chief of staff, will also leave.
The changes are meant to speed decision-making at Newbury, England-based Vodafone and make strategy more consistent across the continent. The new structure will see the country heads in Germany, Italy, the U.K. and Spain reporting directly to Chief Executive Officer Vittorio Colao.
Vodafone said in June that it's discussing possible asset swaps in Europe with Liberty Global, after Malone said the carrier's businesses in western Europe would have "enormous potential synergies" with his own company.
Vodafone is exploring ways to build its pay-TV businesses in Europe as it tries to offer bundled services of phone, Internet and TV to customers. Liberty Global, which owns cable-TV assets, is interested in acquiring or tying up with mobile operators.
Shares of Vodafone fell 0.6 percent to 237.65 pence at 12:53 p.m. in London. They have risen 7 percent this year. The company will report quarterly financial results on Friday.
Read this next:
Liberty Talks
Starting Oct. 1, Hannes Ametsreiter, Aldo Bisio, Jeroen Hoencamp and Antonio Coimbra, who run the businesses in Germany, Italy, the U.K. and Spain, respectively, will report to Colao. Vodafone Netherlands chief Rob Shuter will assume additional leadership responsibilities for Vodafone's smaller European markets.
Paolo Bertoluzzo, currently chief commercial officer, will be given responsibility for Vodafone's strategy, according to the memo. He'll help oversee the simplification of the company's products and services as part of the change.
An asset swap with Liberty Global would represent a deal between two of Europe's biggest wireless and cable providers. The companies are discussing a range of potential transactions, including combining their western European businesses, swapping some assets, or an outright merger, people with knowledge of the matter have said.
Before it's here, it's on the Bloomberg Terminal.
LEARN MORE