Van Persie Heightens Stakes in Turkey's Champions League of Debt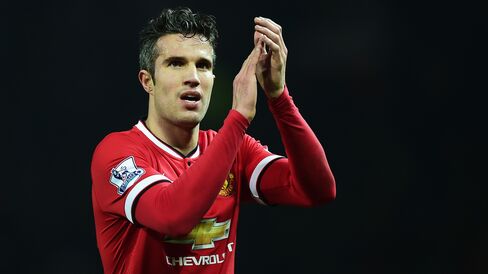 In Turkey's indebted soccer league, Fenerbahce just bet the house on Robin van Persie.
The Istanbul club agreed last week to pay the former Manchester United striker as much as $6.2 million a year. While entry to the UEFA Champions League, the sport's most lucrative club tournament, would pay at least twice van Persie's keep, failure risks inflating debt that's jumped to $184 million from $1 million in four years.
Fenerbahce isn't the only high roller in Turkey. Half of the most debt-laden clubs in the Stoxx European Football index are Turkish, reflecting the growing disconnect between the stakes that the country's clubs are paying and their success in the biggest competitions. Turkey's only side ever to win a European trophy is Galatasaray -- also the only Turkish team so far to reach the lucrative group stage of next season's Champions League. It signed world cup winner Lukas Podolski from Arsenal this year.
"Galatasaray is buying because Fenerbahce is buying, and Fenerbahce is buying because Galatasaray is buying," Emre Deliveli, an Istanbul-based consultant for Roubini Global Economics, said by phone this month. "It's what economists would call a war of attrition."
Rapid Debt
Unlike the U.K.'s Premier League, whose top three teams are guaranteed Champions League group-stage entry, Turkey's Super Lig winner is the only automatic entrant.
Fenerbahce was pipped to the title by Galatasaray last season, meaning the club would need to win play-offs against two more European teams to reach the group stage. The club's first fixture is against Ukraine's Shakhtar Donetsk later this month.
Fenerbahce was banned from entering the competition between 2011 and 2014 -- a period that coincides with rapid debt accumulation -- because of match-fixing allegations that the club denies.
Fenerbahce didn't respond to requests for comment by telephone and e-mail. The club President Aziz Yildirim told Milliyet newspaper earlier this month that he was trimming long-term liabilities by letting some players leave.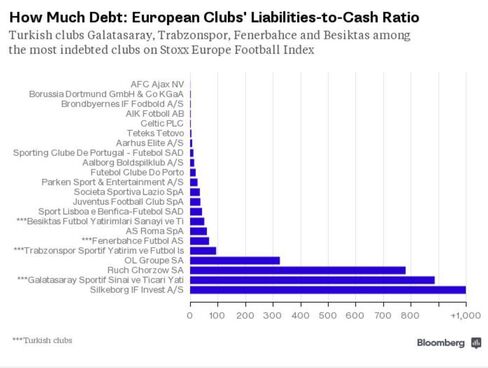 Rich Fans
That's not the only way clubs can balance their books. Besiktas, also an Istanbul team, signed a $145 million sponsorship deal with Vodafone Group Plc's Turkish unit in 2013. Fenerbahce is negotiating a $100 million 10-year deal over naming rights for its stadium with Yildiz Holding AS's confectionery brand Ulker.
Fenerbahce had $4.1 million of cash available at the time of its last filing in February. A place in the Champions League is worth at least $13 million to teams, and every win in the group stage nets a further $1.64 million.
Debt for Turkish clubs looks "unsustainable," said Tugrul Aksar, a football economist in Istanbul who writes for the financial newspaper, Dunya.
"The logic of paying for current transfers with future performance is flawed," Aksar said by phone. "The costs of high-profile signings are real, whereas revenues are no more than an expectation."
Before it's here, it's on the Bloomberg Terminal.
LEARN MORE