U.K. Says 'Very Good Prospect' of EDF Hinkley Deal This Year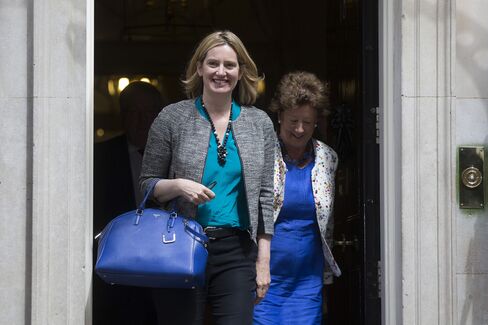 U.K. Energy Secretary Amber Rudd said it's likely Electricite de France SA will finish a deal this year with Chinese companies to build a new nuclear plant at Hinkley Point in southwest England.
Britain reached a deal with the French utility in October 2013 to build the nation's first reactor since 1995, agreeing on loan guarantees to cover construction costs and a fixed power price for 35 years. Since then, EDF has been working out the details of the project with partners Areva SA, which will provide the reactors, and China General Nuclear Power Corp. and China National Nuclear Corp.
"I have met the parties who are involved in the past 10 weeks," Rudd told members of Parliament's Energy and Climate Change Committee on Tuesday. "It looks to me like there is a very good prospect of it reaching a happy conclusion later this year."
The 24.5 billion-pound ($38.1 billion) project is key to U.K. plans to cut carbon emissions and maintain security for its power supply, so electricity generation isn't dependent on intermittent renewables such as wind farms and solar plants.
"This is going to be the first new nuclear plant in over 20 years, so it's essential to me that we succeed," Rudd said.
EDF referred questions to an April 2 statement that said the company is making "good progress" in talks with the government and "continuing positive progress with future investment partners."
The guaranteed payments to EDF for the power from the proposed Hinkley Point nuclear plant have been approved by the European Commission. Austria is challenging that decision, arguing that state aid should only be directed at new technologies, rather than established ones such as nuclear.
"Austria's move is very unwelcome, but our European colleagues have very different views on nuclear, and so it was not unexpected," Rudd said. "The signal that we are getting from the commission is that their decision is completely robust and so we don't think it will impact on the final investment decision that will be coming later this year."
Before it's here, it's on the Bloomberg Terminal.
LEARN MORE