U.K. Locks in Borrowing Costs to 2068 Amid Shifting BOE Outlook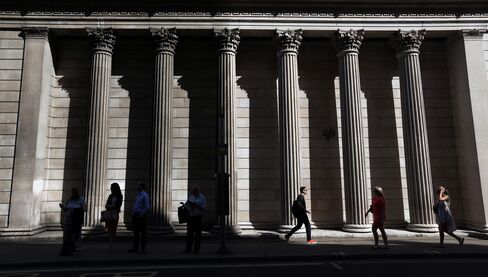 As Mark Carney boosts investor expectations of a Bank of England rate increase, the U.K. Debt Management Office locked in borrowing costs for the nation for the next 53 years.
The U.K. sold 4 billion pounds ($6.2 billion) of bonds due in 2068 via banks on Tuesday at an average yield of 2.74 percent. That compares with 2.623 percent at a sale in March.
BOE Governor Carney used two public appearances last week to prepare investors for higher borrowing costs, helping bring forward their outlook for the central bank's first rate increase since 2007 to next May. That compares with August 2016 as recently as July 10, according to forward contracts based on the sterling overnight index average, or Sonia.
"I think markets and us as well were expecting the BOE to take a little bit longer before they started this turn in view," said Richard Kelly, London-based head of global strategy at Toronto-Dominion Bank. A February increase now "seems very, very likely."
U.K. government bonds fell on Tuesday, with the yield on the benchmark 10-year gilt climbing three basis points, or 0.03 percentage point, to 2.09 percent as of the 5 p.m. close in London. The 5 percent security due in March 2025 declined 0.255, or 2.55 pounds per 1,000-pound face amount, to 125.295.
Minutes of this month's BOE meeting, set for release on Wednesday, will show if the central bank's nine-member Monetary Policy Committee has started to split on whether to raise rates. It voted unanimously to hold the benchmark at a record-low 0.5 percent at every meeting this year.
Read this next:
The pound dropped 1 percent to 70.29 pence per euro, after touching 69.36 pence on July 17, the strongest level since 2007, and was little changed at $1.5557.
(An earlier version of this story corrected the currency in second and fifth paragraphs.)
Before it's here, it's on the Bloomberg Terminal.
LEARN MORE