Spain Rebound Leaves Jobless Hurdle Restraining Rajoy Vote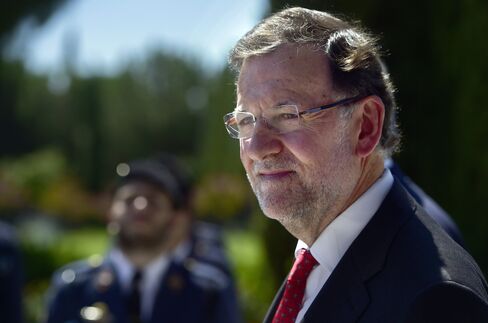 Spanish Prime Minister Mariano Rajoy is finding it hard to sell economic success to voters.
While the economy is at the vanguard of growth in the 19-nation euro area this year, an unemployment rate stuck above 20 percent is proving an obstacle to building support in polls with an election just months away.
Data on Thursday will probably show the jobless rate fell to 22.5 percent in the second quarter from 23.8 percent, according to a Bloomberg survey. That would take it to the lowest level since late 2011, when Rajoy arrived in office with a pledge to bring down unemployment.
Speaking before the latest labor-market data, Rajoy's top economic adviser said the government is making "fast" progress, while acknowledging that there's still a political battle to push that message.
"In economic terms, it's going quite fast, more than half a million jobs a year is quite fast," Alvaro Nadal said in an interview in his office in Madrid on Tuesday. "Is that fast enough in political terms? That's a good question."
Carrying the baggage of austerity and hit by corruption cases, Rajoy's PP risks losing power to alternative coalitions due to electoral fragmentation, even as it leads in polls. It would get 29.1 percent of the votes, leaving it short of a parliament majority, according to a GAD3 poll for newspaper ABC on July 19. It won 44.6 percent in 2011.
The conservative government is speeding up tax cuts and trying to lower costs for consumers as it pushes against pressure from the Socialists and the anti-austerity Podemos party and entreats voters to focus on its economic record.
Reform Pace
Marcel Jansen, economics professor at the Autonomous University of Madrid, said Spain is benefiting from extraordinary circumstances, including European Central Bank stimulus and lower oil prices.
"The current scenario is exceptional, and that's helping job creation. The economy is growing, petrol prices are down, you have Draghi too," he said. "The idea that the job is done is an illusion."
Monthly data from the European Union's statistics office show Spain's jobless rate was 22.5 percent in May, the second highest in the euro region after Greece. Youth unemployment stood at 49 percent, compared to 22 percent for the euro zone.
Responding to comments from the International Monetary Fund that Spain needs further reforms to tackle structural imbalances in the labor market, Nadal said the pace of job creation is already impressive. On a quarterly measure, unemployment peaked at close to 27 percent in early 2013.
Read this next:
Nadal said reforms introduced three years ago made Spain more flexible and competitive, which should translate into companies taking on workers at a faster pace. He added that measures to improve training and education for workers have been approved into law, but need more time to be implemented.
"It should be faster, it's easy to say," Nadal said. "Of course they finger point at the unemployment level, but that's the stock. The important thing is if the flow is going well, because then the problem of the stock will be reduced."
Before it's here, it's on the Bloomberg Terminal.
LEARN MORE