Rousseff's Popularity Plummets as Brazilian Economy Shrinks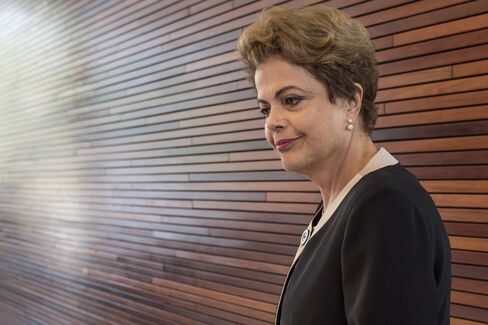 President Dilma Rousseff's approval rating fell to a new low as Brazil's economy contracts and she faces dissent in Congress.
The president's personal approval rating decreased to 15.3 percent from 18.9 percent in March, according to the July 12-16 MDA poll published Tuesday by the National Transport Confederation, or CNT. That's the lowest ever recorded by MDA, whose polling goes back to 2001.
Rousseff is struggling to slow above-target inflation and stimulate a shrinking economy amid growing talk of impeachment. An expanding probe of politicians accused of graft has ensnared her predecessor and leaders of both houses, eroding the government's relationship with Congress.
Public disapproval of the president will make it increasingly difficult for her to win approval of legislation deemed crucial to boosting investor confidence, said Flavio Serrano, senior economist at investment bank BESI Brasil. Those measures include unpopular bills to raise taxes and curtail expenditures to shrink the budget deficit.
"Unfortunately, we're looking at a long period where the economy will be very bad and there will be limited scope to make progress on strategic issues," Serrano said by telephone.
The real reversed gains and depreciated after the polling data was published on concerns Brazil's political crisis will drive the nation deeper into recession. The currency has since appreciated, rising 0.4 percent to 3.1822 per U.S. dollar at 11:46 a.m. Sao Paulo time.
Favor Impeachment
The MDA poll shows 7.7 percent of respondents rated the government good or very good compared to 10.8 percent in March. Roughly six out of 10 respondents in the July and March polls said they favor an impeachment of Rousseff.
The MDA survey of 2,002 people has a margin of error of plus or minus 2.2 percentage points. CNT President Clesio Andrade was deputy governor of Minas Gerais state from 2003 to 2006 under Aecio Neves, who lost to Rousseff in October's election.
A June 18-21 poll conducted by Ibope showed 9 percent of respondents rated Rousseff's government as very good or good. That's lower than in 1992 when massive protests and a corruption scandal led to the ouster of then-President Fernando Collor.
Now the Rousseff administration is bracing for demonstrations scheduled for Aug. 16 that threaten to further destabilize her government and embolden her critics in Congress. More than a million Brazilians already took to the street in March and April to protest against the government.
Before it's here, it's on the Bloomberg Terminal.
LEARN MORE