Pennsylvania May Sue Firms Over Ex-Harrisburg Mayor's Bond Deals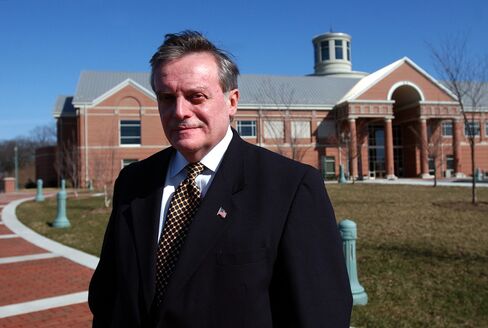 Pennsylvania may sue the financial advisers and law firms that worked with former Harrisburg Mayor Stephen Reed as he allegedly misused proceeds from bond deals that pushed the capital city into insolvency.
The state on Monday requested proposals from lawyers interested in mounting a case, less than a week after state Attorney General Kathleen Kane charged Reed for his role in debt deals that led the city into a state receivership in 2011. Kane said Reed used bond money to buy Western memorabilia and pay those who supported his interests. Reed said he will fight the charges.
"The city of Harrisburg is experiencing financial troubles and they're experiencing these because of past indiscretions by advisers to the city," Jeffrey Sheridan, a spokesman for Governor Tom Wolf, said by telephone. Pursuing claims "is the right thing to do."
Harrisburg, a city of about 50,000, was placed under a state-appointed receiver after struggling with debt payments from a costly incinerator project. It exited receivership last year after selling the plant, leasing its parking system and raising income taxes to settle with creditors owed about $362.5 million.
The recovery plan for the city said that state officials overseeing Harrisburg could seek "redress" from those responsible for decisions on the incinerator project. Any recoveries could go to creditors and the city.
Aggressive Litigation
Sheridan wouldn't name the potential targets of the state's action. He said officials unsuccessfully tried to recoup funds from them before deciding to turn to lawyers.
The law firms hired by the state "will be expected to implement an aggressive litigation program that includes identification of any and all causes of action surrounding the legal, financial and other professional services rendered in support of the Harrisburg incinerator retrofit," according to the state's solicitation.
Reed, who as mayor for 28 years oversaw the city's growing debt burden, was the "mastermind" of a pattern of public corruption, Kane said during a briefing last week.
Reed misused money from municipal debt sold for projects including the incinerator, she said. A 2012 forensic audit cited in the state's request for attorneys said Harrisburg officials and advisers ignored financial risks posed by the project.
Advisers Named
The report referred to RBC Capital Markets, Public Financial Management Inc., Investment Management Advisory Group and Milt Lopus & Associates Inc. for their financial analysis on the deals.
Elisa Barsotti, a New York spokeswoman for RBC Capital Markets, didn't immediately return a phone call and e-mail seeking comment. Sandra Sosinski, a spokeswoman for Philadelphia-based Public Financial Management Inc., had no immediate comment. A message left at Investment Management Advisory Group's Pottstown, Pennsylvania, wasn't immediately returned.
Bruce Barnes, who was president of Harrisburg-based Milt Lopus & Associates Inc., said by telephone that he didn't know about the state action and couldn't comment.
Amanda Ritchie, a spokeswoman for Pittsburgh-based Eckert Seamans Cherin & Mellott, LLC, declined to comment. The audit said the firm's attorneys were involved in several of the incinerator's financings.
Before it's here, it's on the Bloomberg Terminal.
LEARN MORE