Osborne to Seek 20 Billion Pounds of U.K. Government Cuts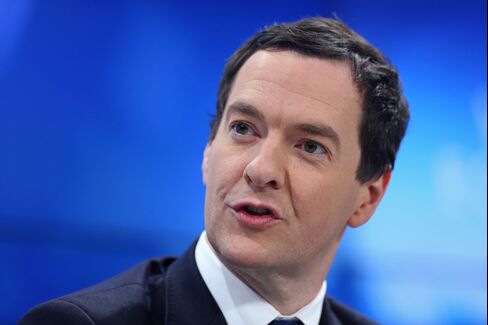 Chancellor of the Exchequer George Osborne will announce Tuesday that he's seeking a further 20 billion pounds ($31 billion) of savings from U.K. government departments ahead of a spending review.
Chief Secretary to the Treasury Greg Hands wrote to ministers asking them to identify efficiencies and reforms, the Treasury in London said in a briefing note. The cuts will be detailed in the spending review on Nov. 25.
"Employment is back to near record levels, crime is falling and public satisfaction with the NHS is rising year on year," Osborne will say in a document detailing the plans, to be published Tuesday. "But we are still borrowing 1 pound for every 10 pounds we spend and national debt remains at its highest level for 50 years. If we do not deal with this debt, we run risks with our economic security."
The announcement comes less than two weeks after Osborne set out deep cuts in benefits, twinned with the introduction of a compulsory "living wage" to help the lowest earners in his July 8 budget -- the first by a majority Conservative government in 19 years.
Ministries will be asked to identify how they'll help to achieve the government's target of selling off public-sector land to build at least 150,000 homes by 2020.
Osborne will also announce that the Bank of England will be opened to scrutiny from the National Audit Office as part of plans to improve the central bank's governance and accountability. The Bank of England Bill will be presented to Parliament in the fall.
Read this next:
Before it's here, it's on the Bloomberg Terminal.
LEARN MORE