Novartis Profit Misses Estimates Amid Weak Lens Unit Sales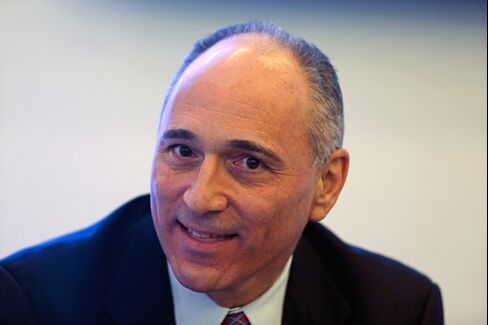 Novartis AG unexpectedly cut the sales forecast for its Alcon eye-care unit after competition for lens implants and the strength of the U.S. dollar dragged down second-quarter earnings for the world's biggest drugmaker.
A profit measure dubbed as core earnings declined 7 percent to $1.27 a share during the three months to June 30, Basel, Switzerland-based Novartis said in a statement Tuesday. That fell short of the $1.32 average of 12 estimates compiled by Bloomberg. Alcon sales will grow at a low single-digit rate this year, compared with a previous forecast of a mid-to-high single digit rate, Novartis said.
Competition from rivals such as Abbott Laboratories Inc. and Bausch & Lomb Inc. hurt sales of Alcon's intraocular lenses, which surgeons implant in the eye to correct vision problems. Novartis is investing in developing a new generation of lenses that it's betting will revive growth, Chief Executive Officer Joe Jimenez said on a call with reporters.
"It's a marked miss on the Alcon side," Michael Leuchten, an analyst at Barclays Plc in London, said by phone. "It seems to be that customers are just not happy with the product."
Revenue in the division, excluding currency fluctuations, was flat while profit slumped 10 percent.
"We're not happy" with Alcon's growth, Jimenez said. "The key to getting Alcon to grow faster is to drive innovation, and we're working in the short term and long term to do that."
Shares Drop
Shares of Novartis fell 2.5 percent, the most in about three weeks, to 99.75 Swiss francs as of 11:39 a.m. in Zurich. The stock had gained 32 percent in the past 12 months, including reinvested dividends, compared with a 15 percent advance for Switzerland's benchmark SMI Index.
Novartis started selling a new implantable lens in Europe this month that gives patients near, intermediate and distance vision. That will help it compete with Carl Zeiss Meditec AG, which has a similar product that has been eating into Alcon's sales, Jimenez said.
The company increased its sales forecast for Sandoz, the generics unit that won U.S. approval in the second quarter for Glatopa, a copycat version of Teva Pharmaceutical Industries Ltd.'s top-selling multiple sclerosis drug Copaxone. Revenue in the division will grow by a high single digit rate, compared with a previous forecast for growth by a mid-single digit rate, Novartis said.
Currency Fluctuations
Sales in the company's pharmaceutical division fell 4 percent to $7.8 billion in U.S. dollar terms, and rose 6 percent when excluding currency fluctuations.
Novartis reiterated its full-year forecast for core operating income to grow by a high-single digit percentage and sales to expand at a mid-single digit rate, excluding currency fluctuations.
Core earnings excludes costs such as impairment charges, costs related to integrating acquisitions and other one-off expenses. Novartis says core earnings give investors a better understanding of the company's performance.
Currency fluctuations stripped 0.9 percentage points from the profit margin, undermining Jimenez's efforts to increase profitability after wrapping up a $30 billion reshaping of the company. Novartis in March completed offloading its slow-growing animal health business and acquired GlaxoSmithKline Plc's portfolio of cancer drugs.
Before it's here, it's on the Bloomberg Terminal.
LEARN MORE