Hungary Cuts Rate More Than Forecast Before Matolcsy's Guidance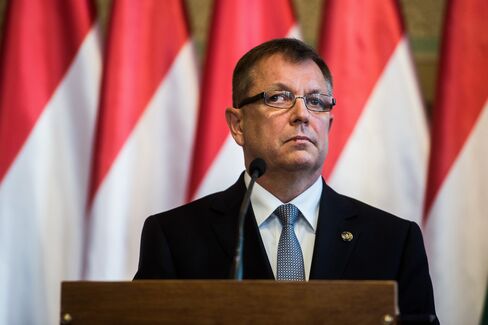 Hungary reduced its record-low benchmark interest rate by more than economists forecast, with central bank President Gyorgy Matolcsy set to announce his monetary-policy guidance.
Policy makers in Budapest lowered the two-week deposit rate by 15 basis points to 1.35 percent, the National Bank of Hungary said by phone. Sixteen of 19 economists in a Bloomberg survey predicted a cut to 1.4 percent and three forecast a reduction to
1.35 percent. Matolcsy will speak at 2:30 p.m.
Hungary has cut the main rate by 15 basis points each month since March. The monetary authority has continued easing after eastern European countries including Poland and Romania ended reductions as they eye the start of tightening by the U.S. Federal Reserve. Hungarian rate setters have cited moderate inflation, the desire to lower sovereign-debt financing costs and the need to boost economic growth for continuing with cuts.
"If Matolcsy speaks, then it's probably because he has something important to say and in this case it's probably to announce the end of the rate-cut cycle," Gergely Palffy, a Budapest-based economist at Raiffeisen Bank International, said by phone after the briefing was announced on Tuesday.
The forint gained 0.2 percent to 309.34 per euro by 12:07 p.m. in Budapest, paring its decline since the start of the rate-cut cycle in March to 3.3 percent, the worst performance among the European Union's eastern members. It has appreciated
1.8 percent this month, as fears of Greece leaving the euro area receded.
Nearing End?
Hungary is nearing the end of its easing cycle as risks mount, including from the potential Fed rate increase, Daniel Palotai, the central bank's executive director, said June 25. Two of the three risk scenarios considered by rate setters pointed in the direction of tighter monetary conditions, he said.
Policy makers last month flagged that they had "slight" room to continue rate cuts, according to the minutes of last month's meeting. June inflation was 0.6 percent from a year earlier, the fastest since 2013, though still short of the central bank's 3 percent medium target.
Tuesday's cut took the benchmark interest rate below that of Poland, which is at 1.5 percent.
"A final cut that takes Hungary's interest rate below that of Poland would carry an important message," Palffy at Raiffeisen said before the rate decision.
Before it's here, it's on the Bloomberg Terminal.
LEARN MORE