Hayes Lawyer Calls Client More Austin Powers Than James Bond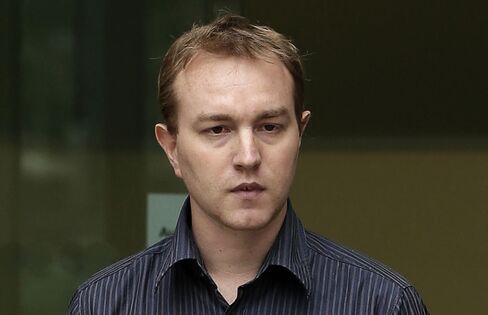 Tom Hayes's requests of his brokers and Libor submitters to move the benchmark were so overt that it stretches credulity to believe he knew he was doing something wrong, his defense lawyer said.
Hayes made no secret of his conduct, Neil Hawes told jurors during closing arguments in a London court Tuesday. Never trained in connection with Libor, Hayes acted just like his peers and in the full knowledge of employers who never raised a hand to stop him, his lawyer said.
If Hayes was engaged in a conspiracy, it was "more Austin Powers than James Bond," the lawyer said. "There's nothing subtle about his communications at all."
Hayes, who worked at UBS Group AG and Citigroup Inc. in Japan, is charged with eight counts of conspiracy to manipulate the London interbank offered rate, the benchmark used to value more than $350 trillion of loans and securities. Each count carries as long as 10 years in prison.
Prosecutors say Hayes bullied and cajoled fellow traders and brokers to move Libor to make his positions more profitable. Hayes's lawyers say the practice was widespread.
Hayes was so open and explicit because requesting certain Libor rates was common practice throughout the industry, Hawes said.
'Lived, Breathed'
"The communications in this trial are not underhand, not undercover and not under the radar," the lawyer said. "He lived, breathed, slept Libor -- all because he wanted to do a good job for the bank."
To demonstrate his client's frame of mind, Hawes showed the jury an e-mail from Hayes to a friend just after he was fired by Citigroup for trying to manipulate Libor.
"Truth be told I am very confused as to the exact rules I broke when I spoke to our cash desk," Hayes wrote. "I didn't say/do anything different from the all the years I have spoken to those guys."
While prosecutors have tried to paint Hayes as a serial market manipulator who knew he was behaving dishonestly, the 2010 e-mail makes it clear he wasn't aware he was doing anything wrong, according to his lawyer.
"Everything is not as it seems," Hawes said "This is not an open-and-shut case."
Earlier in the hearing, U.K. prosecutor Mukul Chawla told jurors Hayes was seeking to blame everyone else for his predicament because he was incapable of taking personal responsibility for his actions.
"No one forced him to rig Libor," Chawla said. "No one forced him to pay bribes. This was all his doing."
Before it's here, it's on the Bloomberg Terminal.
LEARN MORE