Goldman Sachs Said to Seek Saudi Stock Trade License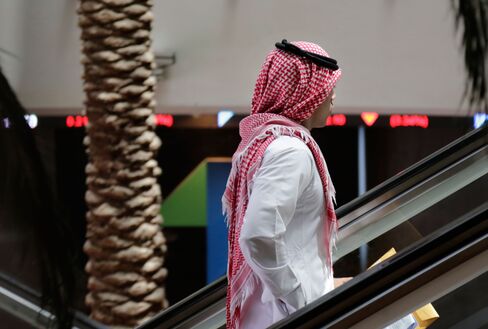 Goldman Sachs Group Inc., which advises clients on more than $1 trillion of investments, applied to own and trade Saudi Arabian stocks directly after rules were changed last month, two people with knowledge of the plan said.
The New York-based bank is seeking a qualified foreign investor permit from the Capital Markets Authority in the world's biggest oil-exporting nation, the people said, asking not to be identified because the information isn't public.
Goldman is considering applying for a permit, though hasn't yet submitted an application, another person familiar with the matter said.
HSBC Holdings Plc was among the first qualified foreign investors to trade Saudi Arabian shares last month after the kingdom relaxed restrictions on foreign investment as part of moves to diversify its $752 billion economy from oil. The Saudi market is worth more than the other major Gulf Cooperation Council markets combined, including the United Arab Emirates and Qatar.
Institutions outside the six-nation GCC that manage at least $5 billion of assets and have five years of experience were allowed to own stocks directly in Saudi Arabia as from June 15, rather than only through equity swaps and exchange-traded funds previously.
Foreign investment in Saudi Arabia's stock market may climb to $28 billion by mid-2017 from about $7 billion in June, according to estimates from Deutsche Bank AG last month. Direct stock investments by qualified foreign investors in the first two weeks of the new rules were just 22.84 million riyals ($6 million), less than 0.02 percent of the total, data from the Saudi stock exchange show.
Read this next:
A spokesman for Goldman Sachs in London declined to comment, as did a spokesman for the Saudi regulator.
Stocks Gain
Saudi stocks, which have a market value of about $554 billion, are up 12 percent this year. That compares with an increase of 6.3 percent for the Bloomberg GCC 200 Index and a
1.8 percent loss for the MSCI Emerging Markets Index.
The Capital Market Authority approved an amendment to Goldman Sachs Saudi Arabia's business profile last year, authorizing it to conduct businesses including managing investment funds and discretionary portfolios, a statement from the regulator at the time shows. Its rights to conduct dealing as agent, as underwriter and custody activities were canceled under the changes.
Before it's here, it's on the Bloomberg Terminal.
LEARN MORE