Gold Has Plunged and the Dollar Has Surged. Which Is Leading Which?
In summer 2015, the horse is running in circles with one wheel off the cart
They are correlated.
If the dollar appreciates, gold goes down. Or is it the other way?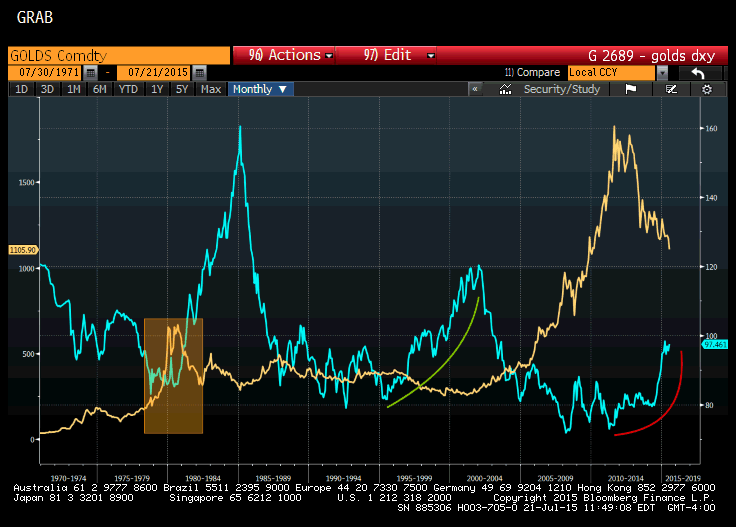 Gold is down 41 percent from $1800. The dollar has strengthened 33 percent from a 2011 nadir. We have seen all this before, many times. Gold had a massive early 1980s surge (the gold rectangle). During that rally, the precious metal advanced about 700 percent. The dollar index plunged 22 percent over roughly the same period. There is a cottage industry of analysis addressing where the dollar-gold/gold-dollar horse and cart are. In summer 2015, the horse is running in circles with one wheel off the cart.
Gold has a more brutal path (to steal a phrase from Jean-Claude Trichet). The DXY series may move stronger; there is no question about gold and too many other commodities. The technical construction of lower highs and lower lows screams south. Note the late-1990s "strong dollar" in green. A similar trend is developing now, in red.
Robert P. Ryan is with the Bank Credit Analyst of Montreal. This is an esteemed shop, acclaimed for decades at lining up various horses and carts. "We believe gold has lost its safe haven bid. It has instead become primarily a source of cash in hard times," he wrote. Then Ryan attaches horse to cart. (My horse expert has advised me that this is totally wrong; you attach the cart to the horse, and the damn horse knows if you are the father.) "Gold price is much more responsive to expectations for the Federal Reserve's interest-rate liftoff, and the broad trade-weighted USD."
Pay attention to the cart. Pay attention to the horse. Or the broad, lead-weighted horseshoe will get you between the eyes.
Discuss.
Before it's here, it's on the Bloomberg Terminal.
LEARN MORE