Carney Flags Economic Headwinds as BOE Approaches Rate Rises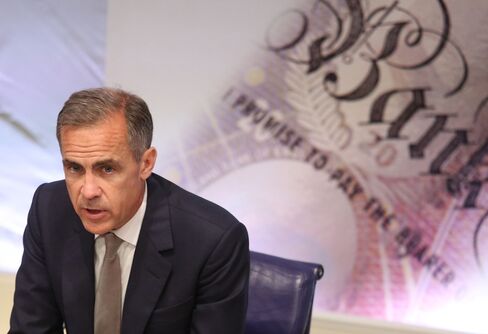 Bank of England Governor Mark Carney said investors should keep the headwinds facing the U.K. economy in mind as the bank approaches raising interest rates from a record low.
"The path of rates is much more important than the timing of the first move because there are still headwinds to growth," Carney said at an event in London late on Tuesday. These include "weakness in Europe, the strength of sterling and the prospect of the largest fiscal adjustment of any advanced economy over the next five years."
His remarks last week that at the end of the year policy makers would have a better idea of the timing of the first rate increase helped spur some investors to bring forward bets on when the bank will make its move. Momentum toward an increase from the current 0.5 percent has accelerated as wage data strengthen.
"The decision as to when to start that process of raising interest rates will likely come into sharper relief around the turn of this year," he said Tuesday, reiterating his comments from July 16. "That statement on the timing and pace of prospective interest rate increases needs to be put into perspective."
Policy Decision
Minutes of the bank's July policy decision will be published Wednesday and will show whether one of Carney's colleagues on the Monetary Policy Committee voted to raise the key rate. The bank has voted unanimously for no change all year.
In an article published on Wednesday, MPC member David Miles told Mortgage Strategy magazine that the time of the first interest rate increase "is coming" and borrowing costs will start rising gradually over the next few years. Miles, whose term on the panel ends Aug. 31, also said the U.K. inflation rate, which was zero in June, will move back toward the BOE's 2 percent target "quite sharply towards the end of this year or the start of next year."
The pound rose against the dollar and was trading at $1.5610 as of 8:03 a.m. London time, up 0.3 percent on the day.
At the Policy Exchange event on Tuesday, Carney also repeated that the headwinds facing the economy will mean the pace of rate increases is likely to be slow and will end at a level that's about half as high as historic averages.
The governor added that policy makers are alert to the possible threat to financial stability that an extended period of low interest rates might create and said they could "act in a timely fashion to mitigate those risks."
Before it's here, it's on the Bloomberg Terminal.
LEARN MORE