Argentina's Peso Tumbles on Doubts Opposition Will Win Election
Peso falls to weakest in nine months in black-market trading

Currency controls limit access to the official exchange rate
Argentina's peso slumped to a nine-month low in the illegal street market as growing speculation that the opposition candidate is unlikely to win October's presidential election fueled demand for dollars as a safe haven.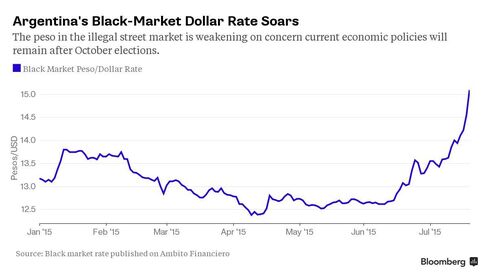 Investors and savers are increasingly demanding hard-currency assets on concern the next administration will keep the policies of President Cristina Fernandez de Kirchner, who has overseen a 50 percent depreciation in the peso in the past three years amid lackluster economic growth and inflation exceeding 20 percent. Opposition candidate Mauricio Macri suffered a setback Sunday when his choice to succeed him as Buenos Aires mayor won the election by a narrower margin than analysts expected.
"The currency market is absorbing the uncertainty surrounding elections," said Luciano Cohan, the chief economist at Buenos Aires-based consulting firm Elypsis. "Each piece of negative news adds to the contagion on the exchange rate."
The peso in the black market, where Argentines go when they can't get approval to buy dollars at the official rate, tumbled 3.1 percent Tuesday to 15.09 per dollar, the weakest since Oct. 3.
In official trading, which the central bank controls with daily interventions, the peso slid 0.1 percent to 9.1561 per dollar.
Macri said Sunday that companies and pensions nationalized by Fernandez
would remain under state control if he is elected. The comment raised further doubts about the prospect for economic reforms, according to Cohan.
Macri is challenging Daniel Scioli, the front-runner and a member of the ruling Victory Front party.
Before it's here, it's on the Bloomberg Terminal.
LEARN MORE