Analysts Aren't Fazed by What a Slowing Chinese Economy Will Do to U.S. Earnings
Earnings revisions for China-exposed stocks remain low
Reported figures show Chinese economic growth is still humming along at a 7 percent rate, albeit heavily boosted by the parabolic surge in the Shanghai Composite that began to peter out in the middle of June.
However, Singapore's dramatic economic contraction is seen as a potential "tell" that the world's second-largest economy has lost some mojo, which would presumably have an adverse effect on many U.S. companies.
A report, from the Bank of America Merrill Lynch equity and quantitative-strategy team led by Savita Subramanian, shows that Wall Street doesn't seem to be too worried about the prospect that a slowing Chinese economy could hamper earnings for Standard & Poor's 500-stock index companies, despite the already visible impact it has had on some corporations around the world. Bloomberg News reported on Tuesday that companies, including Remy Cointreau, Burberry, and South Africa's Kumba Iron Ore have taken a hit from China during this earnings season.
At BofAML, Subramanian looked at earnings per share revisions to gauge how analysts have been reacting:
[G]iven the recent shift in macro focus to China, Greece and Iran, we evaluated 2015 EPS revisions for groups most vulnerable to these macro forces to get a sense as to what has been built into expectations: the top 50 companies by oil sensitivity (beta), by Europe exposure, and by China exposure (Chart 2). Revisions seem to suggest complacency about China relevant to other macro concerns, with estimates for China-exposed stocks having come down just 6% over the past year, less than for the S&P 500 overall (-7%). Estimates have been slashed by 17% over the past year for Europe-exposed stocks and by 49% for those with the highest oil betas.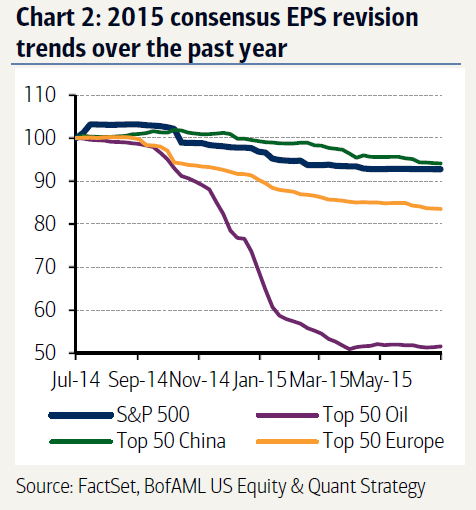 Bank of America's analysts have been assessing how the downshift in Chinese growth will affect U.S. corporations, Subramanian said.
Over the past two weeks, BofAML analysts have cut their rating on Corning to "underperform," from "neutral," due in part to Chinese TV demand indicating a 3 percent drop year-over-year. They have also highlighted how waning Chinese commodity demand could affect American machinery companies, investigated the downside risks for U.S. automobile and parts makers in light of falling Chinese car purchases, and noted Yum! Brands' reduced sales guidance from China after its second-quarter same-store sales tumbled 10 percent year-over-year.
Before it's here, it's on the Bloomberg Terminal.
LEARN MORE