Americans Heading Back to Work Drive at Record Pace Through May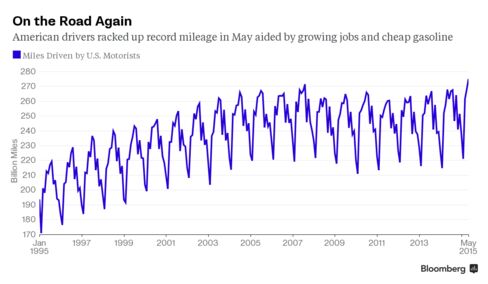 U.S. drivers put a record number of miles on their cars in May, helped by a growing economy and cheap gasoline.
American motorists traveled 275.1 billion miles in May and have totaled 1.26 trillion so far this year, a record for the first five months of the year, Federal Highway Administration data show.
Why are the roads getting more crowded? More than four million Americans have gotten jobs since the beginning of 2014, creating more daily commutes, and gasoline prices are down 26 percent from last year's peak.
"It is possible that U.S. driving may set new records all summer," Doug Hecox, a spokesman for the highway agency in Washington D.C., said by phone yesterday. "Normally, the peak of the travel season is June, July and August."
The data include all travel on all U.S. roadways, amounting to about 1,100 miles for every American over the age of 16, according to federal data. That's the highest level since August 2010.
All of this driving is good news for U.S. refiners, who processed a record amount of crude into fuel last week. The profit for making fuel along the Gulf Coast, where about half of the nation's refineries are located, is the highest for this time of year in at least a decade, according to data compiled by Bloomberg.
Before it's here, it's on the Bloomberg Terminal.
LEARN MORE