Al-Qaeda Gets a Chance to Govern Under Cover of Yemen War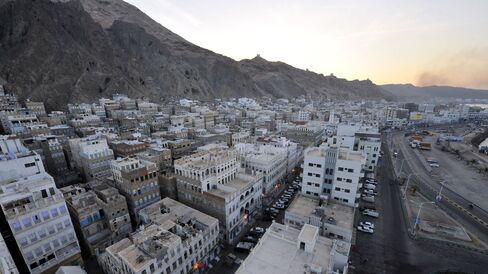 In the port city of Mukalla in southern Yemen, al-Qaeda is in charge. Its militants roam the streets, ordering women to cover their faces and banning shops from displaying lingerie.
The jihadist group, whose local affiliate al-Qaeda in the Arabian Peninsula already used Yemen as a base for attacks, has seized the chance to emulate its Islamic State spinoff by holding territory and governing it. The advance has been made possible by a civil war that shifted the priorities of Yemen's power-brokers.
While the U.S. continues to target jihadists in Yemen with drone strikes, its allies -- the internationally recognized government, and its sponsor Saudi Arabia -- are more preoccupied with regaining control of the country from Shiite Houthi rebels.
Al-Qaeda "is much stronger on the ground today," said Katherine Zimmerman, a research fellow at the American Enterprise Institute in Washington. "The coalition forces, particularly Saudi Arabia, are willing to risk strengthening al-Qaeda in the process of defeating the Houthis."
A Saudi-led coalition has been bombing Yemen, which lies adjacent to some of the world's busiest oil shipping routes, since March in a bid to reinstate President Abdurabuh Mansur Hadi, driven into exile by the Houthis.
It claimed its first major breakthrough in recent days, as government troops with Saudi air support regained control of the southern city of Aden. Two aid ships arrived there on Tuesday, and a Saudi military plane carrying humanitarian supplies landed at the city's airport on Wednesday, the first arrival since the war spread to the south. Officials said commercial flights may resume next week.
Burned Shrines
Elsewhere in the south, the fight against the Houthis has brought Al-Qaeda to the fore.
The group seized Mukalla in April, looting the town's central bank branch and freeing hundreds of inmates from its prison. It has also burned down Sufi shrines and markets that sold qat, a mild narcotic leaf popular in Yemen, according to Mohammed Ali, a military officer and local resident.
"All state institutions and banks are closed and employees are stuck -- no police stations, no prosecutions, business activities have stopped," Ali said by phone.
The militants moved into Mukalla with support from local tribesmen, dubbing themselves the "sons of Hadramaut," the province of which Mukalla is the capital, and promising to defend it against the Houthis.
By joining that fight, the jihadist group "has been able to mobilize a greater degree of sympathy," said Patricia Letayf, an analyst at research company Control Risks in Dubai. Instead of being stigmatized as a terrorist group, it has become accepted by some Yemenis, especially in the south, as a useful ally against the northern-based Houthis.
Charlie Hebdo
The Houthis pledged to step up the fight against al-Qaeda when they took control of Sana'a in September. They have also accused Hadi's government of secretly aiding the jihadists.
The U.S. has identified Yemen-based al-Qaeda in the Arabian Peninsula as the group most likely to hit Western targets. It was behind the Charlie Hebdo shootings in Paris and the attempted bombing of a Detroit-bound plane in 2009, and has also struck in neighboring Saudi Arabia.
For much of the past decade, Yemen's government received U.S. training, carried out raids against al-Qaeda and provided the U.S. with a base for armed drone missions. While the drone strikes continue -- last month AQAP leader Nasir al-Wahishi was killed -- the U.S. now lacks a stable local ally, though it also has a base in Djibouti, just across the Bab-el-Mandeb strait.
'Killed Life'
In Yemen, "our partner is in shambles," said Zimmerman of the American Enterprise Institute. Al-Qaeda's gains are a concern because "U.S. airstrikes are not going to be able to dislodge a governing organization."
Islamic State has gained support in Yemen too, claimed responsibility for several attacks including mosque bombings in March that killed about 140 people. Yet while the newcomer has eclipsed al-Qaeda elsewhere, in Yemen the older group predominates.
The longer Yemen remains at war, "the more these groups will prosper and take more territory and put their stamp on it," said Matthew Henman, manager of IHS Jane's Terrorism and Insurgency Centre in London.
In Mukalla, al-Qaeda didn't initially seek to impose on the civilian population, said Naser Baqazquz, a political activist. Gradually, it began to do so -- outlawing cigarette sales, putting jihadist videos on television, taking charge of imports and exports, and setting up a security force that patrols the streets to apply Islamic law.
Ali, the local army officer, said: "They have killed life here."
For more, read this QuickTake: Yemen's Fault Lines
Before it's here, it's on the Bloomberg Terminal.
LEARN MORE