ABB in Cevian's Sights May Result in Push to Break Up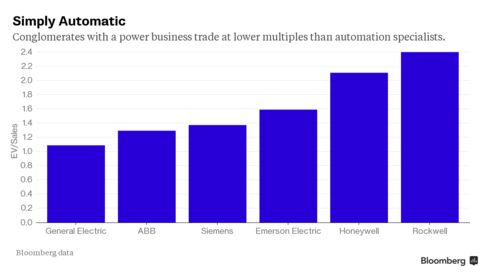 ABB Ltd., formed in 1988 with the merger of Swiss and Swedish industrial giants, may soon come under pressure to split in two again.
Activist investor Cevian Capital AB has built a 5.1 percent stake in ABB, making it the second-biggest shareholder in the $48 billion company. That may be a prelude to pushing for a breakup or other changes at the world's largest maker of power grids, according to a person familiar with Cevian's plans, who asked not to be identified discussing the Swedish investment firm's possible strategy.
With faster growth projected for ABB's automation operations and its power business facing decline, a split may make sense, said William Mackie, a London-based analyst at Kepler Chevreux. Automation specialists have an enterprise value of about 2.3 times revenue, compared to a multiple of about 1 for power-equipment makers, according to Mathias Leijon, chief investment officer at ABB shareholder Nordea Bank AB. ABB now is valued at about 1.3 times its revenue in the past 12 months.
Cevian may decide just to push for cost cuts and improved operational efficiency, according to someone who has worked with Cevian in the past. ABB's earnings before interest, taxes, depreciation and amortization declined to 12 percent of revenue last year from a high of 15.8 percent in 2011. Competitor Rockwell Automation Inc.'s adjusted Ebitda last year was 21 percent of revenue, according to data compiled by Bloomberg.
Track Record
"If we don't see a margin progression towards 16 percent-plus and a very prudent capital allocation, which drives cash return, then I think one should be very open to the idea that the structure is too complex," said Nordea's Leijon. Nordea is the 10th-biggest ABB shareholder, according to data compiled by Bloomberg. "If they don't deliver that, then we believe there's probably a case to break up the company, and we should know that within the next 18 to 24 months."
Sandra Wiesner, a spokeswoman for Zurich-based ABB, declined to comment, as did a representative for Cevian. ABB will report second-quarter earnings results on July 23.
Cevian pushed through a similar transformation at Metso Oyj, the Finnish maker of rock crushers and mining equipment. In 2013, Metso spun off its less profitable paper, pulp and power unit, a move that was broadly welcomed by investors.
The Stockholm-based investor has a track record of buying enough shares to earn a seat on the board, and has installed managers at German steelmaker ThyssenKrupp AG and industrial services specialist Bilfinger SE in the past year.
Laggard Stock
ABB shares have performed worse than any of the company's main peers during the past five years. The stock gained just 1.2 percent in that time before today, while Rockwell and Honeywell International Inc. more than doubled. Siemens AG and General Electric Co. also did better. ABB shares dropped 1.2 percent today to 19.66 Swiss francs in Zurich.
At ABB, "the power portfolio is low-growth and under competitive pressures," Kepler Cheuvreux's Mackie said in a phone interview. Significant parts of the automation business -- comprising businesses such as software, systems, drives, motors, inverters and robotics -- should comfortably sustain 3 percent to 5 percent growth and operating margins up to 20 percent over the next decade, he added.
"Creating specialized companies could make sense," said Volker Stoll, an analyst at Landesbank Baden-Wuerttemberg in Stuttgart, Germany. "A sum-of-the-parts valuation, particularly when it comes to making strategic decisions, can be higher as stand-alone businesses than as part of a bigger conglomerate."
Wallenberg Stake
The January death of Peter Wallenberg might mean that the appetite for transformational change is greater at Investor AB, the largest ABB shareholder with a 9.3 percent stake, according to Bloomberg data. The patriarch of the family, which controls Investor, had helped establish ABB in 1988 by merging Sweden's ASEA with Switzerland's Brown, Boveri & Cie.
Stefan Stern, a Stockholm-based spokesman for Investor AB, declined to comment when asked about the firm's stake in ABB.
"We prefer to discuss company strategy directly with management than through the media," he said in a telephone interview.
An ABB breakup might allow Cevian to then push to combine the automation business with ThyssenKrupp's. The board of Kuka AG, which competes with ABB in the robotics market, may also be open to a merger, according to a person familiar with the German company's strategy. It might be difficult, though, to seal antitrust approval for such a deal, said the person, who asked not to be identified discussing possible deals.
A representative for ThyssenKrupp declined to comment, as did a spokeswoman for Kuka.
Even if the two businesses split apart without any further deals, operating as separate companies would allow them to allocate capital more quickly and better react to competition, according to Nordea's Leijon. "The more focused you are, the better it is," he said.
Before it's here, it's on the Bloomberg Terminal.
LEARN MORE