Zach Johnson Wins British Open in Playoff for Second Major Title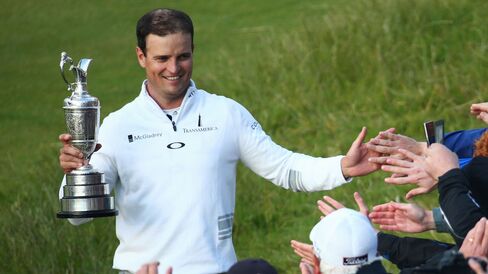 Johnson sank a 30-foot putt at 72nd hole to get to 15 under

Johnson beat Oosthuizen, Leishman in four-hole playoff
American Zach Johnson won the rain-delayed British Open in a playoff over Louis Oosthuizen and Marc Leishman, claiming his second major championship while ending Jordan Spieth's grand-slam attempt.
Johnson, the 2007 Masters Tournament champion, sank a 30-foot birdie putt at the 72nd hole Monday to finish regulation play at 15-under par and then waited to see if he could be topped. He shot 1-under in the four-hole playoff, winning the Claret Jug when Oosthuizen missed an eight-foot putt.
"I'm grateful. I'm humbled. I'm thankful. I'm honored," Johnson, 39, said in a televised interview from St. Andrews, Scotland, after the victory. "This is the birthplace of the game and that jug means so much to sports."
The three golfers finished regulation a stroke better than Spieth, the reigning Masters and U.S. Open champion, and Jason Day.
Using the first, second, 17th and 18th holes -- all par-4s -- for the aggregate playoff, Oosthuizen and Johnson opened with birdies while Leishman bogeyed. Johnson added another birdie at the second to get to 2 under, while Oosthuizen and Leishman managed pars. All three golfers bogeyed the 17th, leaving Johnson with a one-stroke lead over Oosthuizen heading to the 18th. Johnson's 15-foot birdie try missed right, leaving Oosthuizen with an eight-footer to force a sudden-death hole. He missed it left.
Making the Playoff
Johnson, from Iowa City, Iowa, wouldn't have been in the playoff -- or earned the winner's check of about $1.8 million (1.15 million pounds) -- if not for the dramatic finish to his final round.
Trailing Australian Leishman by a stroke when he arrived at the par-4 17th hole, Johnson found the fairway off the tee. During his approach shot he lost his footing, leaving the ball on the fairway well short of the green. His third shot came to rest about 15 feet from the hole and his par attempt was short, leaving Johnson at 14 under.
He then sank a 30-footer at the 18th for birdie. As the ball approached the hole Johnson kneeled to watch it go in, then pumped his right arm in celebration. He said after the round that last week at the John Deere Classic in Silvis, Illinois, he had a putt that would have put him into a playoff. He hit it well though it didn't fall.
"Today, it slid in and, obviously, the rest is history," Johnson said.
This year's tournament ended on a Monday for just the second time in its 155-year history after Saturday's round was halted when 40 mile-per-hour(64 kilometer-per-hour) winds blew balls across the greens.
Oosthuizen, a 32-year-old from South Africa, was trying to win consecutive British Opens at St. Andrews. That's where he won his only major, in 2010. He missed makable putts at each of the last two playoff holes.
"Zach left the door open on 17 and I couldn't take advantage of it, so well done to him," Oosthuizen said in a televised interview.
Two of Three
Spieth, the 21-year-old Texan, joined Jack Nicklaus, Arnold Palmer, Tiger Woods and Craig Wood in winning the Masters and U.S. Open in the same season, only to come up short at the British. Wood won the first two in 1941 and never got a chance at the British due to World War II. A 30-year-old Palmer (1960) and 32-year-old Nicklaus (1972), each lost the British Open by a stroke. Woods tied for 28th at the 2002 British after winning the first two majors that year.
Spieth had a share of the lead after a lengthy birdie at the 16th hole. He then bogeyed the 17th and needed to sink a putt from off the green at the 18th to join the playoff.
"It was a really good putt, it just hung out on that left side," Spieth said in a post-round interview with ESPN. "Just tough. Just tough."
Ben Hogan remains the only golfer to take the Masters, U.S. Open and British Open in the same calendar year. Hogan, who was 41 when he did it in 1953, didn't play the PGA Championship, which at the time conflicted with the British.
Danny Willett, Justin Rose, Sergio Garcia and amateur Jordan Niebrugge tied for sixth at 11-under.
Johnson shot a 6-under-par 66 during his first round, placing him one stroke off Dustin Johnson's lead. He shot a 71 during the second round and a 70 in the third, entering Monday's play tied for sixth, three strokes behind Oosthuizen, Day and amateur Paul Dunne.
Only four champions have had better final rounds in 144 editions of the tournament: Greg Norman had a 64 in 1993, while Tom Watson (1977), Seve Ballesteros (1988) and Justin Leonard (1997) each fired 65s.
Johnson became emotional when asked what the victory, eight years after winning the Masters, meant to him.
"I play golf for a living, and I'm grateful for that," he said. "It's a beautiful game, it provides a great opportunity."
Before it's here, it's on the Bloomberg Terminal.
LEARN MORE