Soaring Bird Population Prompts FAA to Consider Plane Safety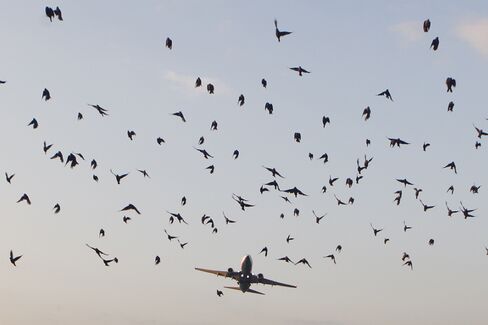 U.S. regulators are considering whether airplanes need to be built to better withstand collisions with birds because of an increase in the population of Canada geese, pelicans and other species.
The Federal Aviation Administration is asking airlines, manufacturers and the public whether costly new protections are needed amid the "significant population increases" from the types of birds that can damage a plane's structure. The agency hasn't proposed any specific changes so far.
"The bird strike threat has increased, especially the threat due to larger birds," the agency said in a filing posted Monday in the U.S. Federal Register. Comments are due Nov. 17.
While no airline fatalities have been caused by birds colliding with aircraft for decades, the steady expansion of several species of birds and a series of incidents prompted the FAA to re-examine its standards. Aircraft impacts with birds reached a record 10,856 in 2013, the most recent year available, from 1,795 in 1990, according to agency data.
The FAA cited U.S. data showing that the population of Canada geese reached 3.8 million in 2013, up from 500,000 in 1980, and the North American snow goose rose to 6.6 million from 2.1 million, among several species. Most species of large birds have seen similar population spikes in recent decades.
Hudson Landing
The most dramatic incident occurred in January 2009, when a flock of geese struck a US Airways plane, knocking out both engines. Dubbed the "Miracle on the Hudson," Captain Chesley "Sully" Sullenberger put the Airbus A320 down on the frigid Hudson River and no one died.
Five people were killed in March 2008 when a chartered Cessna Citation jet struck one or more pelicans after taking off in Oklahoma City, damaging a wing, according to the U.S. National Transportation Safety Board.
The FAA said it concluded that in numerous incidents the impact of a bird on an aircraft exceeded the protections required under existing standards. Most surfaces of commercial aircraft must be able to withstand the impact of a 4 pound (1.8 kilogram) bird, while for the tail area it is 8 pounds.
The FAA is asking whether the entire aircraft should have to withstand a strike from a heavier bird, to 8 pounds or some other weight. It also wants to know if aircraft should be strengthened against birds in other ways.
Wing Gash
Industry members of an FAA working group in 2003 failed to reach agreement on the need for new safety standards related to birds, according to the FAA.
Each year there are about 300 impacts with birds and other wildlife that cause damage to commercial aircraft, according to a FAA annual report. The total fell to 241 in 2013, the fewest in the past 10 years, according to FAA.
In a listing of severe incidents, the FAA said a Boeing Co. 737-300 operated by an unnamed airline was hit by many ducks shortly after lifting off from St. Louis on Dec. 23, 2013. The plane returned for a safe emergency landing.
One engine was shut down and a gash measuring 12 inches to 14 inches was found on the right wing. The repairs cost $494,000, according to the report.
Since 1990, 37 aircraft have been destroyed by birds, most at airports serving private planes, the report said.
Before it's here, it's on the Bloomberg Terminal.
LEARN MORE