Shark Attack Halts World Surf League Event in South Africa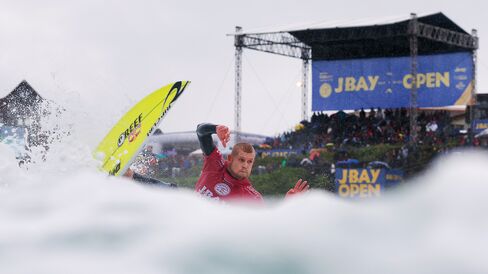 A shark attack on three-time world champion surfer Mick Fanning during the finals of a World Surf League event in Jeffreys Bay, South Africa, forced officials to cancel the event Sunday.
Fanning, 34, was sitting on his board during the J-Bay Open competition when a fin appeared behind him, footage of the attack posted on the league's website shows. He was knocked into the water and frantically kicked away after losing his board, before he was picked up by a jet ski.
https://www.youtube.com/watch?v=xrt27dZ7DOA
"I just had this instinct that somebody was behind me," Fanning said. "I saw the whole fin just thrashing around. I punched it a couple of times. I felt it was dragging me under water and then all of a sudden my leg rope broke. I was swimming and screaming. I just had this thought 'What happens if it comes and has another go at me?' so I just turned around so I could at least see it coming. Then before I knew it, the boat was there, the jet skis were there."
Shark attacks off South Africa's coast have averaged 4.3 annually in the past decade, with just less than a third fatal, according to the International Shark Attack File, compiled by the Florida Museum of National History. It logged 72 confirmed attacks worldwide in 2014, two in South African waters.
The attack on Fanning is the third off the country's southern coast since late last month.
'Totally Tripping'
On June 26, student Dylan Reddering was attacked by what appeared to be a 2-meter to 3-meter great white while surfing off Lookout Beach in Plettenberg Bay. The following day, 19-year-old student Caleb Swanepoel was bitten while surfing at nearby Buffels Bay and had to have his right leg amputated.
"I'm totally fine, I've got nothing wrong with me," said Fanning, who shared the J-Bay Open prize money with fellow finalist Julian Wilson. "There is just a small depression in my board and my leg rope got bitten. I'm just totally tripping out to walk away from that."
Fanning, who is from Tweed Heads, Australia, won the Association of Surfing Professionals World Tour in 2007, 2009 and 2013. The ASP changed its name to the World Surf League this year.
"This is the first time a competitor has been knocked off his board or attacked in any way by a shark," WSL Commissioner Kieren Perrow said in an interview screened on the league's website. "Coming into this event we had a medical evacuation safety plan, not just for an attack like that, for any situation. They really followed that to a T and that outcome was incredible."
Great whites, tiger sharks and bull sharks are among the species found off South Africa's coast.
"The number of shark-human interactions occurring in a given year is directly correlated with the amount of time humans spend in the sea," the International Shark Attack File said on its website. "As the world population continues its upsurge and interest in aquatic recreation concurrently rises, we realistically should expect increases in the number of shark attacks."
Before it's here, it's on the Bloomberg Terminal.
LEARN MORE