NASA's 'GoreSat' Mission Just Released Its First Image of Earth
It took two federal science agencies 17 years to produce this shot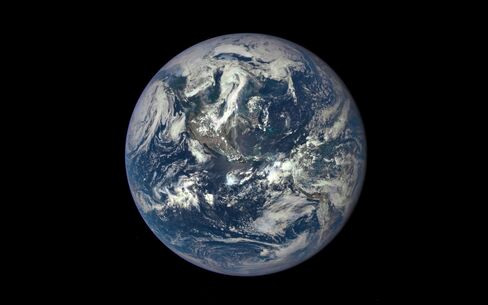 NASA's 10-year, 3-billion-mile mission to Pluto electrified the world last week when it dispatched images of a tiny planet that's dynamic in ways even experts never anticipated. So while 3 billion miles is the current bar to ignite mission-mania in the public eye, a million-mile jaunt still isn't too shabby.
NASA has released the first image taken from the Deep Space Climate Observatory (DSCOVR), a collaboration with the National Oceanic and Atmospheric Administration (NOAA) that will study both the Sun and the Earth.
The satellite was launched in February. In early June it reached its new home, 1 million miles away. That faraway point, which astronomers refer to as L1, is a kind of gravitational balancing point between the Earth and the Sun. A satellite occupying that position remains more or less stationary relative to the two orbs.
DSCOVR will send back new images every day so that people around the world can see the whole planet in living color. The project was conceived by then-Vice President Al Gore in 1998, built within two years, and set aside. "GoreSat," as the Earth-camera became known informally, was reborn in 2008 as a sideshow to DSCOVR's main mission, which is to monitor the Sun's "weather" for NOAA and give earthlings a heads-up if electromagnetic storms are headed our way.
Before it's here, it's on the Bloomberg Terminal.
LEARN MORE