EU Nations Fail in Plan to Spread 40,000 Migrants Across Europe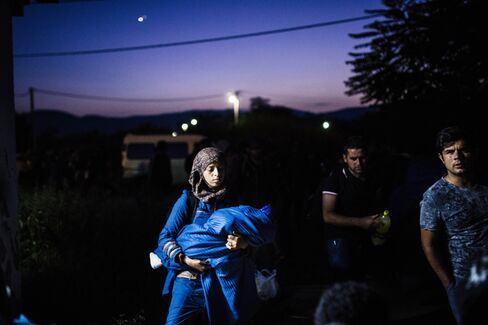 European Union governments failed to agree on plans to disperse 40,000 migrants who have arrived in Italy and Greece from violence-ravaged northern Africa and the Middle East as several EU countries refused to take part.
Ministers from the 28-nation bloc meeting in Brussels could only agree on how to resettle 32,256 asylum seekers, falling short of a pledge made last month.
"This shows a voluntary scheme is difficult to implement," EU Migration Commissioner Dimitris Avramopoulos told reporters following Monday's meeting. "I'm disappointed this did not happen today but it's a very important step forward."
Civil war in Syria and chaos in Libya are driving the biggest wave of migration in Europe since the fall of communism in the early 1990s. European governments took in 185,000 asylum seekers in 2014, an increase of almost 50 percent from 2013, with Greece and Italy in the front line.
The ministers were trying to meet an end-of-July deadline set at a June summit where, after a heated argument, EU leaders pledged to share the burden of migrants from across the Mediterranean Sea.
While they decided in principle to resettle 40,000 asylum-seekers who have fled to Italy and Greece, the leaders opted against obligatory quotas for each European nation and fell short of agreeing on a voluntary distribution system.
Several Eastern European governments have complained that they would be flooded with refugees under the proposal and refused to accept their share of the 40,000 migrants proposed by the EU Commission.
'Embarrassing' Figures
Austria and Hungary refused to take any refugees under the plan while the U.K. and Denmark have opt-outs from EU migration matters. Other countries agreed to take in fewer migrants than the EU said was their fair share. Italy and Greece weren't included.
Some of these figures "are slightly disappointing, in some instances even embarrassing," said Luxembourg Foreign Affairs Minister Jean Asselborn, who led the meeting. Even so, "we're very close to the objective and I think we managed to get a respectable result."
The EU will try to reach the 40,000 figure by the end of the year, he said.
A separate pledge made at the June summit to take a further 20,000 refugees directly from countries of origin or transit has proved less controversial, with governments agreeing on a figure of 22,504. Only Hungary refused to take refugees under this plan, while non-EU countries Norway, Switzerland, Liechtenstein and Iceland also agreed to take part.
Before it's here, it's on the Bloomberg Terminal.
LEARN MORE