China Communist Party Expels Former Hu Jintao Aide on Bribes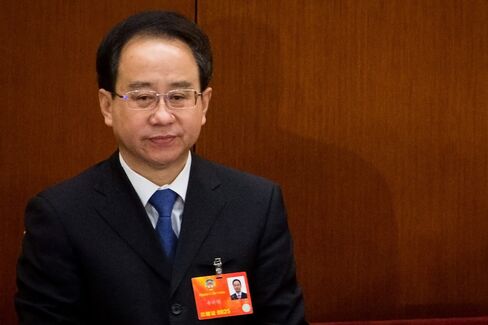 The Chinese Communist Party expelled a former top aide to retired President Hu Jintao and set in motion a criminal case against the last of a faction dubbed the "New Gang of Four."
Ling Jihua, 58, who had served as Hu's chief of staff, seriously violated party discipline and the law by taking "huge" bribes and obtaining "a large quantity of party and state core secrets," the official Xinhua News Agency said, citing a meeting of the Central Committee's Politburo. Ling also carried on sexual relations with many women, Xinhua said.
The case has been sent to prosecutors for handling, Xinhua said. Ling was stripped of his post as vice chairman of the Chinese People's Political Consultative Conference National Committee in February, two months after President Xi Jinping's graft-busters disclosed the investigation.
The criminal case opens the final chapter of a far-reaching corruption probe that toppled the country's former security czar and one of its top generals. In June, Zhou Yongkang, a retired member of the Politburo's supreme Standing Committee, was sentenced to life in prison, the highest-ranking official convicted for graft in party history.
Ling was considered a top candidate for the Politburo before his ascent was cut short by claims that he tried to cover up the March 2012 death of his son in a Ferrari crash, the South China Morning Post reported in September that year.
Ferrari Crash
As head of the party's General Office, Ling was responsible for ensuring the health, safety and confidentiality of Standing Committee members and a confidant to Hu. Six months after the crash, Ling was sidelined from leadership contention and made head of the United Front Work Department, which handles relations with non-party organizations and elites.
Joseph Fewsmith, a politics professor at Boston University who specializes in elite Chinese politics, said the use of the phrase "a large quantity of party and state core secrets" to describe the secrets in Ling's case was interesting and probably indicated he would face a secret trial, like Zhou. While Zhou was convicted of leaking state secrets, they were never described as central to the party.
"That is a very curious phrase," Fewsmith said. "Ling of course handled secret information every day."
Ling is the last of a quartet that held great sway. While the group -- including Zhou, former Chongqing party chief Bo Xilai and late Central Military Commission Vice Chairman Xu Caihou -- bears little resemblance to the first Gang of Four convicted for treason after Mao Zedong's death, they were considered barriers to Xi's rule.
Purifying the Ranks
Bo is serving a life sentence for a September 2013 corruption conviction, while Xu died of bladder cancer in March before he could face trial on bribery charges.
"Corruption and the Communist Party are like fire and water and can't exist together," a commentary on the website of the party-run newspaper People's Daily said about the decision. "The uncovering of Ling Jihua and eradicating his bad influence are significant to the party as it will eliminate hidden dangers, enforce discipline and purify the ranks."
Speculation on Ling's prosecution has intensified since a flurry of domestic media of reports in June on the conduct of Ling and members of his family. Caijing reported July 7 that a senior official from China's southern Guangxi region was being investigated for allegedly buying a promotion from Ling.
A brother-in-law of Ling's who served as deputy mayor in Shanxi province's Yuncheng city has been detained for a second time in connection to a corruption investigation, the Beijing News reported July 15.
For more, read this QuickTake: Corruption
Before it's here, it's on the Bloomberg Terminal.
LEARN MORE