British Open Playoff Becomes Three-Way Win for Buffett's NetJets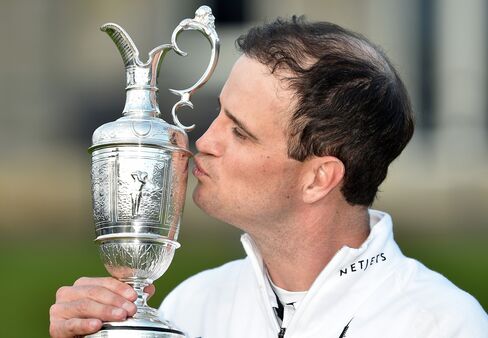 NetJets sponsors the top 5 finishers, including playoff trio

Final round creates $6.5 million in exposure for company
The three-man British Open playoff was a win-win-win for NetJets Inc.
Zach Johnson, Louis Oosthuizen and Marc Leishman, the three men in Monday's four-hole playoff, each have sponsorship agreements with the luxury aviation unit at Warren Buffett's Berkshire Hathaway Inc. All three wore shirts with the company's logo throughout the 18-hole final round at St. Andrews in Scotland, then the playoff, which Johnson won.
Monday's final round telecast on ESPN generated about $6.5 million in media exposure for NetJets, according to sponsorship and analytics firm Apex Marketing Group Inc. Johnson, by comparison, won about $1.8 million for taking home the Claret Jug.
"NetJets definitely got the most exposure of any sponsor," Apex Managing Partner Eric Smallwood said of Monday's round in a telephone interview.
Under Armour Inc. was poised for a big day with Jordan Spieth, the winner of the year's first two majors who was trying to keep alive his hopes for a season Grand Slam. Smallwood said the company lost a big opportunity when amateur Paul Dunne, who also wears Under Armour clothing, fell from contention early on in Monday's round and lost time on camera.
The roughly hour-long playoff alone, televised with limited commercials, created an extra $1 million in media exposure for NetJets. Spieth and Jason Day, who finished one stroke out of the playoff, are also among NetJets' 60 PGA Tour endorsers, meaning the company had agreements with each of the top 5 finishers. Spieth does not wear the brand on his clothing.
While all PGA Tour golfers that fly with NetJets pay for the service, some of the company's endorsers receive "barter compensation" in the form of additional flight hours for appearances or logo placement, NetJets spokeswoman Christine Herbert said in an e-mail. "Each agreement is unique," she said, without disclosing the financial specifics of the golfers' contracts.
Two Birdies
Johnson, from Iowa City, Iowa, birdied the first two holes of the playoff, bogeyed the third and parred the fourth. He won by one stroke over Oosthuizen, and three over Leishman in the first British Open playoff since 2009, and first since 2002 to feature more than two golfers.
"We congratulate Zach on an amazing victory," NetJets said in a statement. "It was a good day for NetJets and we're proud to have all top 5 finishers supporting the brand and our service."
Based in Columbus, Ohio, NetJets sells fractional ownership of jets to individuals and corporate clients in exchange for flight time. It is the largest fractional operator with about 700 aircraft in its fleet. Buffett purchased the company in 1998 for $725 million.
The NetJets name was featured on Johnson's left collar, Oosthuizen's right collar and Leishman's back. During play, NetJets got the most exposure from Oosthuizen's right collar because of how the on-course cameras typically film right-handed players.
Johnson, whose right collar was blank, generated added value for the company after winning when he conducted a tearful up-close interview with ESPN.
Wealthy Fanbase
Golfers, who travel significantly more than the average professional, are a logical group to align with NetJets, according to Smallwood. The sport's wealthy fanbase also presents a perfect audience for the aviation company, he said.
"Golf really resonates with their key demographic," Smallwood said.
For more, read this next: Zach Johnson Wins British Open in Playoff for Second Major Title
Before it's here, it's on the Bloomberg Terminal.
LEARN MORE