Taiwan to Elect Female Leader as Top Parties Nominate Women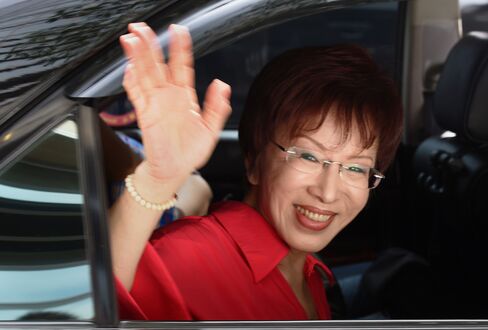 Taiwan's ruling Kuomintang picked its second-highest-ranking lawmaker, Hung Hsiu-chu, to run for president, setting the stage for the island to elect its first female leader in January.
Hung, 67, will run against Tsai Ing-wen, chairwoman of the main opposition Democratic Progressive Party, the first time both major parties have nominated women for the top office. Hung was formally named Sunday at the 19th National Congress of the Kuomintang, the party's main annual gathering involving 1,199 delegates from around Taiwan.
"Taiwan must find a way through adverse international conditions," Hung said at the congress. "Only with a victory for the Kuomintang in 2016's presidential election can we ensure peace and the path and values of liberalization."
Hung's nomination caps months of speculation over who would run against Tsai in the aftermath of a record defeat in November elections, when the KMT turned over nine of its 15 municipal and county seats to the DPP. President Ma Ying-jeou conceded his party chairmanship to take responsibility for the losses, and current KMT Chairman Eric Chu had declared he would not seek the presidency in 2016. Long-serving legislative leader Wang Jin-pyng also signaled he wouldn't join the race.
Tsai, a 59-year-old former trade negotiator and deputy premier, polled ahead of Hung by 12 percentage points in a survey conducted earlier this month by cable television network TVBS. A former teacher, Hung was recommended to run by the Kuomintang's central standing committee in June.
(An earlier version of this story was corrected to show that the Kuomintang gathering is annual.)
Before it's here, it's on the Bloomberg Terminal.
LEARN MORE